PHOTOS: Life's A Beach For Jenny McCarthy & Her New Man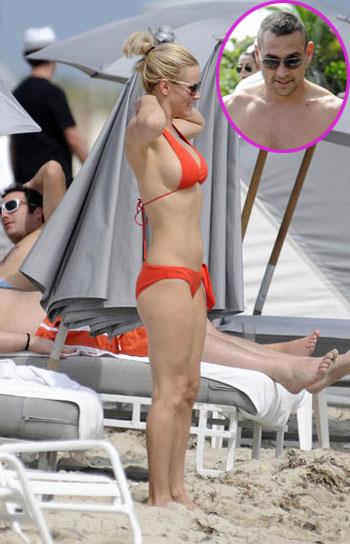 Jenny McCarthy donned a bright orange bikini as she hit the beach in Miami on Friday with her new boyfriend, Jason Toohey, and RadarOnline.com has the photos for you right here.
Toohey, we've learned, is a businessman, ex-fitness model and even a one-time Vegas pirate performer.
It's the first romance we've seen for the sexy blonde in the wake of her split with funnyman A-lister Jim Carrey earlier this year, and she said that men can be a little intimidated to try and date her as a result.
Article continues below advertisement
"It's tough in the dating pool,'' McCarthy, 37, told the Miami Herald Thursday. "It's intimidating to date a celebrity anyway, let alone try to follow in Jim Carrey's footsteps. They think, 'I don't have his money; I don't have his comedic timing.'"
She told the paper of her break-up with The Cable Guy star: "People were really disappointed -- it was Luke and Laura breaking up. But we left in peace. I couldn't have asked for a more graceful ending.
"The key is to get out before it gets ugly," she said. "We tend to stay past the expiration date."
McCarthy's new book, Love, Lust and Faking It: The Naked Truth About Sex, Lies and True Romance is in stores now.
RELATED STORIES: