PHOTOS: Kody Brown Takes Fourth Wife Robyn Sullivan Jewelry Shopping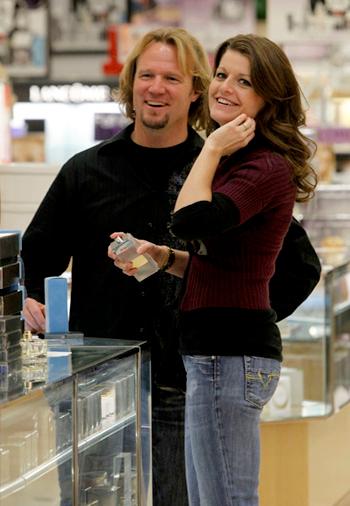 Sister Wives star Kody Brown sure knows how to draw a crowd. As these pictures obtained by RadarOnline.com show, the avowed polygamist and the newest addition to his family, Robyn Sullivan, were greeted like rock stars at a Utah mall Saturday.
In between shopping for jewelry and perfume, Kody and Robyn signed autographs and posed for pictures with fans.
After years with just a mere three wives, Kody brought Robyn into his fundamentalist Mormon home and it wasn't an easy transition for the other women. Kody and Robyn were married in May, a ceremony that will be seen on the TLC reality hit show's season finale.
Article continues below advertisement
Polygamy is illegal and Brown is now under investigation for felony bigamy, with the Utah County Attorney saying it could be months before his office decides if charges will be brought against him.
Sister Wives airs Sundays on TLC.
Related Stories:
VIDEO: Jealousy Rocks Sister Wives