PHOTOS: Junior Seau's Car Crash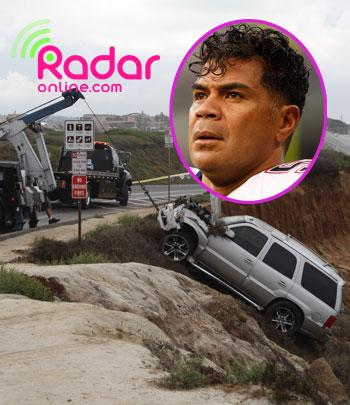 Retired NFL superstar Junior Seau drove his car off of a cliff just hours after being arrested on domestic violence charges and RadarOnline.com has new photos from the scene of the accident.
According to a statement released by police in San Diego, Seau, 41, was arrested for the "alleged assault of his 25-year-old live-in girlfriend. The victim reportedly sustained minor injuries that did not require medical treatment."
Article continues below advertisement
Seau's Cadillac Escalade landed at the bottom of a cliff on the beach after he left the police station. The football player was transported to a hospital via a fire truck, according to a local witness.
The police report gave details of the arrest: "On October 17, 2010 at 10:13 p.m. police were dispatched to the Seau residence on South Strand in Oceanside to investigate the report of a domestic violence assault. The 25-year-old victim reported that Junior Seau assaulted her during a verbal argument. Seau was not at the residence when police arrived. Seau called the victim while police were on scene and spoke to the officers; he agreed to return to the home. Shortly after midnight Seau drove back to the scene and he was arrested without incident as he approached the residence. Seau was booked into the Vista Detention Facility for spousal assault with injury P.C. 273.5. He has since posted bail and has been released."