PHOTOS: Hip-Hop Fashion Flops And Tops In The Best And Worst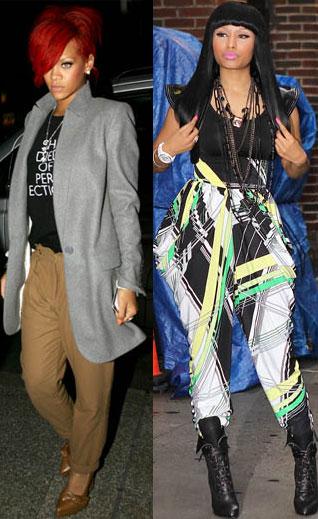 Nicki Minaj is a sassy rapper on the rise, but can she achieve the smashing fashion status of her competition? The wig-wearing wonder hit The Late Show with David Letterman on Monday, wearing brightly hued and patterned harem pants (how MC Hammer of her!) with a space age top, oodles of jewels and combat boots. Though it is impossible not to Check It Out like her hit song demands, her look was definitely more of a flop than a top.
Article continues below advertisement
We love Rihanna's creative sense of fashion, because she always brings her own edge by blending different looks together. The style star was spotted
in London yesterday getting her message across wearing a She Died of Perfection t-shirt under a grey Stella McCartney blazer with pleated khaki
trousers, finishing the look off with nude bowed heels.
Busy Phillips got charitably chic and pretty in pink for the 10th Annual Les Girls Tawdry Cabaret party in Los Angeles, while Julie Bowen showed off her Modern and flawless bod in a one-shoulder, curve-hugging mini.
Lil' Kim flopped in fishy fashion at the opening of La Scala boutique in NYC, while Amber Rose was a little too bejeweled at Paris Fashion Week.
See all the Best and Worst fashions of the day, by checking out the gallery in Style.