PHOTOS: Bikinis! Aussie Bathing Suit Brand Kooey Takes Over LA Fashion Weekend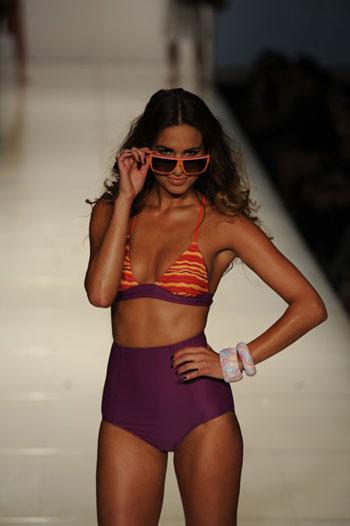 It was a steamy Friday night in Hollywood on Friday, as models hit the catwalk in super sexy swimwear fashions from Australian brand Kooey, the headlining brand of SWIM at Los Angeles Fashion Weekend!
The SWIM show was opened with a performance from Christina Milian, who launched her new line C. Milian Eyewear at the event, and also featured shows from other swimwear lines A. Che and Teeki.
Kooey Director Nikki Silverthorne shifted the design focus of the 2011/12 collection from the beach to the desert, which resulted in the Desert Dreaming and Desert Sunset collections.
Article continues below advertisement
The prints were designed by artist Anne Hanning, and were inspired by the wild landscape and rich colors (earthy shades of pink, crimson, purple, red) of the Australian Central Desert.
The sexy swimsuits were made even sexier by the leggy and luscious models, who paraded down the runway in towering high heels and C. Milian shades.
Check out all of Kooey's latest looks on RadarOnline.com!