PHOTOS: Bikini Wars! Sexy Stars Who Heat Up The Beach In Halloween Colors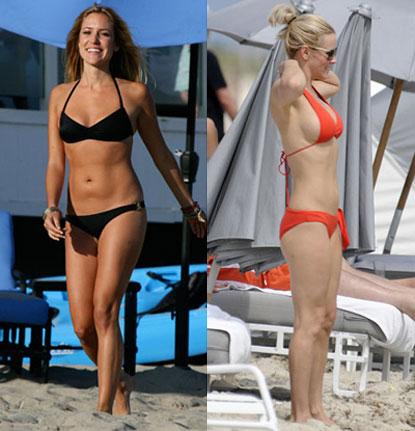 Orange and black are Halloween's signature hues, and while they make for great decorations and costumes, the colors look even better when they are splashed on the hot bodies of Hollywood's most sizzling celebs.
In RadarOnline.com's weekly feature Bikini Wars, your favorite bikini babes face off in the spooky seasonal shades -- but not all of them will bring home the top Bikini Wars honors. Find out which beach babes sexy swimsuit style screams louder here!
Article continues below advertisement
Kate Gosselin and Kelly Bensimon are both single and sexy housewives who love showing off their hot bodies at the beach. While the most famous mother of eight in the world looks pumpkin perfect in her orange bikini, the Real ex-model knows how to make the most of a simple black bikini with awesome accessories. Which of these hot mammas brings more heat to the beach in Halloween spirit? Find out here.
Snooki is one of the most famous Jersey girls who isn't really from the Garden State, but spends a lot of time making a splash on the shoreline in her sexy swimsuits. Snooks clearly doesn't need to wear an orange swimsuit -- because she is orange -- but a real Jersey girl, Ashley Tisdale, definitely pulls off the hot hue in flying colors. Find out which sunbathing beauty causes more drama on the Shore when she strips down to her bikini here!
MORE ON:
Kristin Cavallari
Article continues below advertisement
Kim and Kourtney are both known for their covetable Kardashian curves and while Kourt knows how to raise the temperature in her electric orange bikini, Kim definitely dominates the beach scene in basic black. See which Kardashian sister steams up the beach in spooky and sexy style here.
And who will get Singled Out for their sexy style when it comes to MTV's most babelicious bikini stars? The former host of the music network's popular dating show, Jenny McCarthy knows how to work it in her boob-baring orange bikini, but will she get ousted by The Hills hottie Kristin Cavallari, who flaunts her fat-free figure in black? See the results here.