PHOTOS: Amy Fisher Turns Porn Star -- First Images From Movie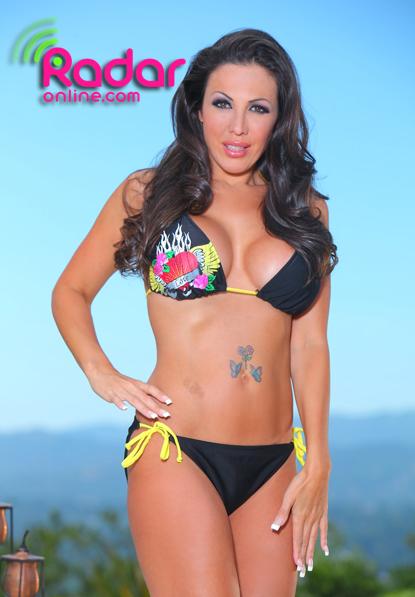 If you thought Amy Fisher, who gained worldwide infamy as the "Long Island Lolita", was overexposed - you haven't seen anything yet.
RadarOnline.com has obtained the very first publicity photos of Fisher from her first full-scale porn movie.
As RadarOnline.com previously reported, Fisher has signed a deal to star in not one, but four XXX movies for Dreamzone Entertainment.
In addition to starring in the films, Fisher will also produce. Her first film is titled, Deep Inside Amy Fisher.
Article continues below advertisement
The film features the 36-year-old New Yorker getting it on with Southern California waterfalls, hiking trails and swimming pools in the backdrop.
Fisher said she got to work with some of the sexiest men in porn such as Tommy Gunn and Dale Dabone, as well as doing a girl-on-girl-scene with Lisa Ann.
"Working with Lisa Ann was absolutely amazing," Fisher said.
"She is stunning, erotic, and was an absolute thrill. I can't wait to make more movies with her.
"I am very proud and excited about this film, and the work DreamZone Entertainment accomplished to make my journey to Los Angeles one of the most amazing trips of my life."
Fisher started production on Deep Inside Amy Fisher in August, and it will be released late this year. Her three other films will be released sometime next year.
Dreamzone lists Fisher as 5-foot-3 and 105 pounds.
Fisher , a mom of three, is pursuing a professional porn career after her amateur sex tape was released in 2007. That tape featured Amy with her husband and sold more than 200,000 copies.
Article continues below advertisement
She also previously released a pay-per-view porn film, and has her own Website where she "limits" herself to working with other women, so her husband won't get jealous.
Fisher made international headlines in 1992 when she had an affair with Joey Buttafuoco while she was only 17, and then shot his wife Mary Jo in the face. Fisher spent seven years in prison, and after her release, briefly reunited with Buttafuoco.
"Our society loves sex," Fisher said about her new career. "It feels so good and we should enjoy it. Sex is beautiful, powerful, and simply put, no one has the right to tell me what I can or can not do with my own private parts. This time, I get to make the choices on what kind of movies I want to make, and I am excited to work with Dreamzone to make my dreams a reality."
RadarOnline.com obtained the treatment for her first film and the "plot" goes like this: Amy moves to LA to "explore the possibilities" of becoming a porn star. Amy meets a guy, has sex with him. Amy meets a girl, has sex with her. Amy meets two other people, has sex with them. Amy goes back to Long Island.