Paris Hilton Gives Her Aunts Reality TV Show Advice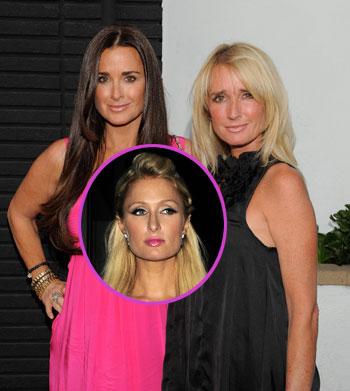 It looks like starring in your own reality show runs in the family! Kim and Kyle Richards are part of the newest Real Housewives franchise, following in the footsteps of their reality television veteran Paris. RadarOnline.com has learned the advice Paris gave to her two aunts.
Although Kim, a divorced mother of four who was also a child star, is forging her own TV path as one of the six leading ladies on The Real Housewives of Beverly Hills, it didn't hurt to get some sage screen advice from her younger - and reality show-wiser-niece, Paris.
Article continues below advertisement
"She just said 'Be yourself," Kim told reporters Thursday when promoting the series premiering on October 14.
"To me, Paris has always made lemonade out of a lemon so I think that's kind of a piece of advice my mom gave us and be yourself and don't let negative things that people have to say bring you down in any way...find the positive and have fun with it."
And Kim admitted to having to keep a positive outlook while filming the show after having an on-camera falling out with her younger sister and co-star Kyle (who's also married with four daughters.)
"I've had the most fun with my sister during this time, but also the most conflict we've ever experienced in our lives. I think for you to see where our relationship is at right now you'll have to tune in and see," she said. "But it's something that's not going to repair itself quickly; there was lot that went on that was unexpected.
"I was shocked at some of things that went on and some of the things that she had to say and I think she felt the same way about me so I guess this is kind of an eye opener for the two of us..."
Article continues below advertisement
Once it was lights, camera, action, the reality was turned up a notch.
"I've been in retirement for many years and raised my four kids and Kyle and I were approached and it sounded like something fun to do with my sister and ... my kids are getting older and I thought it might be something fun for me to do to get back to work," Kim said. "....Once the cameras come in and the mics are on a lot of conflict, drama, emotion, and a lot of stuff erupted that was completely unexpected that I didn't foresee upon signing up for this.
"There were moments I just said 'I don't want to do this, I can't do this.' There was too much conflict. I love my sisters which includes Paris' mom Kathy Hilton and I love my children and my children love their cousins, and the conflict that was created in moments that I thought I don't know if this is for me at this time. It was very overwhelming and emotional."
Although she wouldn't spill the beans on a Paris and Nicky cameo, Kim gave us a hint of what might yet to come: "That will be an exciting part to wait and see if they're there... But I will say that our family is very supportive."
Article continues below advertisement
Even though other sister acts have called it quits from their respective Housewives shows (including Dina Manzo who said goodbye to the NJ housewives -- which her sister Caroline is also on -- last season) the drama isn't too much to keep Kim away for good.
"I think I learned so much this season that absolutely a second season would be fun," she said. "There are things you won't be seeing me do second season that I did first season...but I would definitely be on board."