NEW COUPLE ALERT: Ryan Phillippe Parties With Amanda Seyfried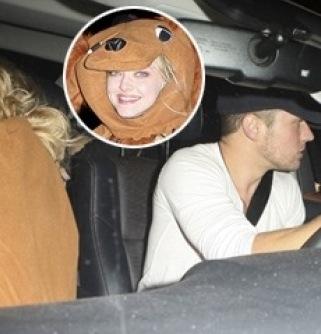 They may be just the classic Hollywood "friends," but when it comes to Ryan Phillippe and any pretty blonde actress, we go on high alert! And RadarOnline.com has obtained photos of Ryan and Amanda Seyfried leaving Kate Hudson's Halloween party together.
The pair did their best to keep photogs from getting snaps of them together as they left Kate's bash. Ryan put the car visor down to try and hide his face, while Amanda tried to duck her head down behind the seat -- no easy task as she was still in her big dog costume!
Article continues below advertisement
Ryan dated blonde Australian actress Abbie Cornish from the time he split from wife Reese Witherspoon in 2006 until February of this year. They met when costarring in the movie Stop-Loss.
Amanda had an on-again, off-again romance with Brit actor Dominic Cooper after they teamed up as costars in the 2008 blockbuster Mamma Mia, but they reportedly split for good early this summer.
Both Ryan and Amanda have been spotted out casually since their respective break-ups, but this is worth keeping an eye on!
Related Stories:
Ryan Phillippe Strikes Out With Two Supermodels
Reese Witherspoon's Love Life Heats Up On & Off Screen