Michael Lohan Gives Lindsay Bible In Court, She Stays Silent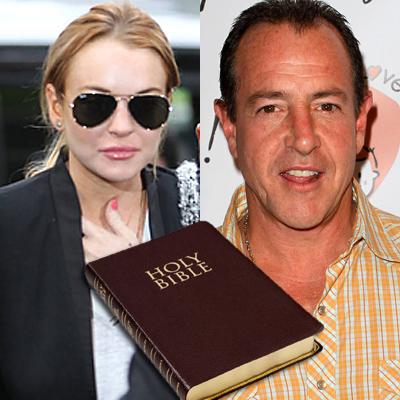 Lindsay Lohan's father Michael clapped in court as Judge Elden Fox ordered the actress back to the Betty Ford rehab center and when the proceeding were over Michael walked up to Lindsay and gave her a bible. Lindsay accepted the bible but didn't say a word to her father.
RadarOnline.com was in the courtroom as both Michael and Lindsay's mom Dina watched the judge decide their daughter's fate.
Article continues below advertisement
Lindsay has had a troubled relationship with her father, who has been extremely vocal about her drug problem.
As Michael handed her the bible, Lindsay looked extremely uncomfortable and was holding her elbows. But as RadarOnline.com reporters watched, Lindsay looked her father in the eye and accepted the bible. She stayed silent.
Deputy district attorney Danette Meyers recommended 180 days behind bars for Lindsay during Friday's court proceeding but the judge ordered her back to rehab until January 3. He also okayed removing her SCRAM bracelet.
Earlier this week Michael Lohan told the press that he will no longer talk to the press. He mostly stuck to that pledge Friday, and right after court all he said was, "My family comes first. Lindsay told me "no press, don't say anything". I can't. Things are getting too good now."
But Lindsay was not warm to her father on a day where things definitely went her way. Once she dodged jail time she left the courtroom with her mother and they both ignored Michael in the hallway.
During the court session he sat on the opposite side of the room and Lindsay did not look at him.
As RadarOnline.com reported exclusively, Lindsay's treatment team told her that she must resolve her relationship with her father -- one way or another -- to protect her sobriety.
Lindsay turned to her mother for support Friday, spending time with her before the hearing and after.
RELATED STORIES:
VIDEO: Lindsay Lohan Cries As She Begs Judge For Forgiveness