Exclusive
Katherine Heigl On Talking To Cops In Her Bikini: My Boobs Look Ridiculous!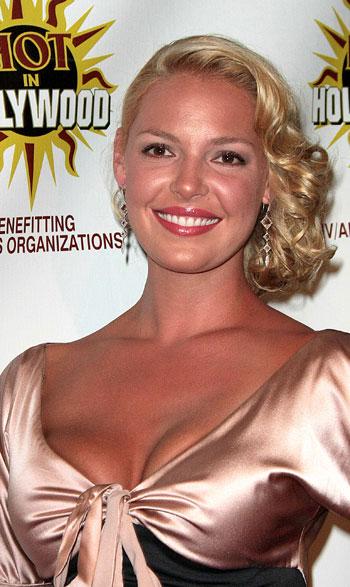 Katherine Heigl has a very simple explanation for why she answered the door in a bikini when police showed up at her house Monday night.
RadarOnline.com captured video of the event, showing super sexy Katherine chatting with police after they responded to a noise complaint.
Watch the video on RadarOnline.com
Now iVillage has obtained the rest of the scoop directly from Katherine who says one of her neighbors screamed at her and husband Josh Kelley to be quiet as they chilled in the hot tub, leading to the police visit.
Article continues below advertisement
"We were hanging out at home just the two of us. We made ourselves some cocktails, and I had specifically worn a sexier bikini than I normally would because I hadn't seen (Josh) in two weeks," Heigl told iVillage.
"The cops showed up. We don't put a towel on, we don't put a robe on, we just go out there to chat about this neighbor we can't stand in our bathing suits and my boobs look ridiculous!
"I just love it because it's the only scandalous, interesting thing that we've ever had to talk about.
"We don't really do anything that scandalous or that exciting, so the fact that we're out talking to the cops in our bathing suits on a Monday night just cracks me up," she told iVillage.
Police showed up at about 10:15 pm and were greeted at the door by Kelley. A few minutes later Katherine came outside to talk to the police as you can see here.
You can read the rest of Katherine's iVillage interview about the amusing incident here.