Gavin Rossdale Admits To Gay Fling In The 80s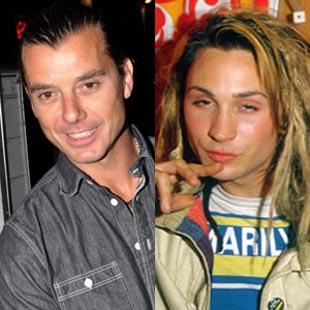 Gwen Stefani's rocker husband Gavin Rossdale has admitted to having a gay fling back in the 1980's with gender bender pop star Marilyn.
Rossdale -- who now has two sons with Stefani -- has confessed to Details magazine about his relationship with the flamboyant performer. The Bush singer admitted that his gay affair was part of an experiment at that time with regard to his own sexuality.
He told Details, "I think at the outset there was a sort of fear - that was right at the beginning of Bush, and I didn't want it to be part of it. It felt like a cheap shot, so I was like, 'I'm not getting involved.'
Article continues below advertisement
"I've never wanted to appear closed about it. It's not something I've talked about really because it's always been in the glare of a tabloid world. It's just one of those things - move on.
"When you're 17, Jesus Christ, I don't think there's anything strange about any form of anything - you're learning about life. It's a part of growing up. That's it. No more, no less."
The 44-year-old Bush singer also fathered a 21-year-old daughter, Daisy Lowe, which he only found out about in 2004 – a discovery that infuriated Stefani at the time.
He claims he is more like a friend to Lowe since he was not involved in her childhood like he has been with his two sons Kingston, 4, and Zuma, 2.
He told Details, "With the boys it's traditional. I'm all they know and I'm with them all the time. With Daisy, I don't know her in that context.
"The way I nurture those boys, I never got a chance with Daisy. I love my connection with her, but I don't have any say in who she is.
Article continues below advertisement
"With the boys, it's my job to correct them and shape them. With Daisy, I just have to be respectful. I suppose it's more like a friendship."
Marilyn (real name Peter Robinson) previously claimed he had a five-year relationship with the rocker which he agreed to keep secret for the sake of his career.
Marilyn said, "He was the love of my life. We were together five years, but it felt like 40. He was just becoming successful in America. I agreed to lie against every grain of my being."