Exclusive
EXCLUSIVE: Tiger Woods' Alleged Mistress Devon James At Center Of Family Feud Over Kids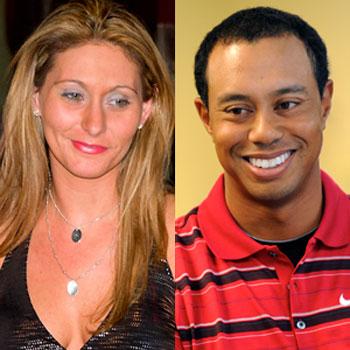 Porn Star Devon James, who has claimed that she had an affair with Tiger Woods and alleges she sold the sex tape for $350,000, is getting heat from both her ex-husband and her mother. RadarOnline.com uncovered the ongoing family feud over James' money and children and also delved deeper into her alleged Twitter war with her mother.
"If she does have the income and $350,000 then she's got the money to pay for her kids," her ex-husband Angelo Caso Jr. told RadarOnline.com. "She needs to pay child support." Angelo claims his ex only pays $83 a week in child support, but hasn't since 2006. She allegedly owes him $12,000 in child support for their children Alyssa, 8, and Gianna, 6, and close to the same amount for her son Austin from another relationship.
Article continues below advertisement
Angelo told RadarOnline.com that their next court hearing will be on October 29. He believes Devon's attorney plans to request to vacate an order by the judge for child support payments claiming that Devon has no money and hasn't worked in the past year. "She'll have to either claim she got the money or she didn't -- and if she didn't, it will make her a liar that she didn't make the tape," he said. "Either way, she's in trouble because her child support will be raised."
Devon, a call girl who has said Tiger was "nasty... dirty, bad, bad, bad" in the bedroom, said she sold a 62-minute tape to a DVD production company for $350,000 plus a cut of sales. The Florida porn star also alleges Tiger is the father of her nine-year-old son Austin, a claim recently dismissed in a Florida court. She also recently launched a website promising the sex video featuring the golf superstar, and according to the site, pre-orders of the alleged tape can be made starting October 15.
Article continues below advertisement
But Devon's former manager Gina Rodriguez warned potential customers in an exclusive interview with RadarOnline.com that the tape does not exist calling it a "scam."
"I would rather her just give up the children and let us move on. She is not allowed anywhere near the children or to contact them," Angelo added. "I would prefer her to go away. I don't care about the money. I don't want the children growing up and having people say, 'Your mom is 'so and so.' They lose friends every time something comes out in the news."
Devon's children are currently under the care of Angelo and Devon's estranged mother Sandra Brinling, who Devon recently wrote scathing remarks about on Twitter. Regarding the tweets, Brinling told RadarOnline.com, "To me this is harassment and the judge said to let him know any time she tries to harass me and it's taken very seriously – if this keeps up I will definitely do something. When we go back to child custody court I will bring these. I have already made copies."
Article continues below advertisement
However, Devon's husband Nick James, who is a porn producer, laughed off Brinling's allegations saying it is Devon's mom doing the harassing. "Look, Devon and I are the ones that had to block her mom from our Facebook and Twitter accounts," he told RadarOnline.com exclusively.
"They were constantly monitoring Devon because she wants increased child support payments and there is a lot of bad blood there. Her mom is jealous of Devon and I and they have not spoken for several years now. At the moment we are going to court to try and get more access to Devon's three kids because Sandra will not let her see them."