Exclusive
EXCLUSIVE PHOTOS: Jodie Foster Did This To Me, Claims Bruised Teen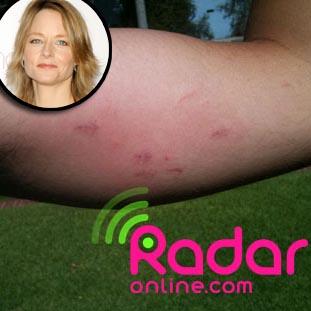 Jodie Foster left a Los Angeles teenager battered, bruised and scarred after she allegedly clawed his arm during a confrontation in a Los Angeles parking lot.
And while the City Attorney's office declined to prosecute the two-time Oscar winner, RadarOnline.com has exclusively obtained the never-before-seen photos of injuries the teen claims Foster inflicted.
The pictures were submitted to investigating police as evidence.
Article continues below advertisement
The photos, showing at least five nail marks on his left bicep, were taken in the immediate aftermath of the clash with the Silence Of The Lambs star, 47, on May 29.
Furious 17-year-old Tony Jr, who asked use his last name not be identified, has spoken for this first time about what happened and the decision to not prosecute the actress, after police turned over the case.
"According to the City Attorney, there was no evidence of an attack," he told RadarOnline.com in an exclusive interview.
Foster has insisted that she did not injure the teenager and that she asked him not to take photos of her with her children while shopping at The Grove shopping complex in Los Angeles.
RadarOnline.com has also obtained the photos Tony Jr. took of Foster with her children - the photos that angered Jodie.
Article continues below advertisement
"I believe that I was treated unfairly by the City Attorney and by Jodie Foster," Tony Jr told RadarOnline.com.
EXCLUSIVE: Battered Ex-Girlfriend Helping Charlie Sheen Prosecutor
"Ms Foster viciously attacked me for taking a photo which was totally uncalled for and it scares me to think that we live in a society where it's really okay to hit people if your a celebrity in Hollywood or if you are rich and famous.
"As far as I'm concerned, celebrities are people too and should be treated like every normal citizen under the same laws that we are subjected to."
According to police, Tony Jr, who was at the complex to see a movie with his girlfriend, told them he was a Foster fan, so he snapped a picture of the actress and her son.
That's when he says Foster approached him, pushed him in the chest and said, "Do you even have a mother, you slime ball?", according to the police report.
Article continues below advertisement
"This guy was most definitely a professional paparazzo," a spokesman for Foster said, at the time, of the incident.
"He tailed Jodie all the way from the movie theater to the valet. This guy's behavior was completely inappropriate, and the police report is a fabrication of what happened."
Tony Jr. is not a professional paparazzo and RadarOnline.com learned he had never attempted to sell a photograph before this event.
RadarOnline.com did pay him for the photos of the injuries after he turned down multiple requests to sell them earlier.
After three months of unsuccessfully trying to get a statement from Foster, the Los Angeles Police Department handed the case over to the District Attorney's office, who dropped it due to lack of evidence.
Tony Jr. told RadarOnline.com: "These photos show Ms. Fosters' nail mark as she dug her nails into my arm.
"If my mom would have done this to her child she would be in jail right now and charged with assault, however, Ms. Foster is free to go.
"I just want the world to know and see what she did and to know that what she did is not okay."
He added: "I hope it doesn't happen to anyone else for any reason."
Foster has been relentlessly hounded by paparazzi as she keeps her personal life very private.
She broke up with her partner Cydney Bernard after 14 years together in 2008 and split from new girlfriend Cindy Mort last year.