Exclusive
EXCLUSIVE: Neighbors Insist Katherine Heigl 'Not Noisy' Despite Hot Tub Hullaballoo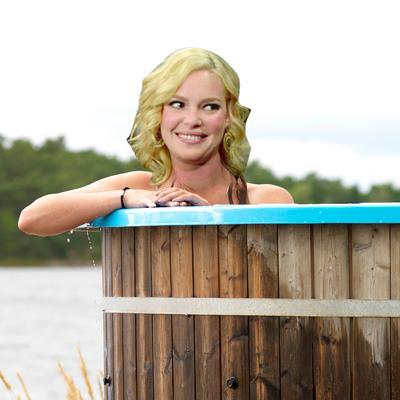 Katherine Heigl's neighbors have sprung to her defense after police were forced to interrupt her hot tub hubbub with hubby Josh Kelley.
As RadarOnline.com was first to report, two cops were confronted with an arresting sight -- Heigl in a barely-there bikini -- when they arrived at the couple's $2 million mansion in Los Angeles, after receiving a noise complaint.
Watch the video of the the Knocked Up actress answering the door in her bikini.
Article continues below advertisement
One neighbor, who did not want to be identified, told RadarOnline.com, "I'm more noisy than her. She and her husband are not a problem, and I wouldn't be surprised if the paparazzi probably called the police."
However, another neighbor rejected the shutterbugs conspiracy theory about the incident, that has since become the talk of the neighborhood and has burned up the internet.
The close neighbor revealed, "That is not what happened. I don't want to say who made the call to the police but they are not bad or noisy neighbors.
"These things can happen anywhere, but nobody doesn't like having Katherine and her family living here."
In an interview with iVillage, Heigl said one of her neighbors screamed at her and Kelley to be quiet as they chilled in the hot tub.
"We were hanging out at home just the two of us," she said.
"We made ourselves some cocktails, and I had specifically worn a sexier bikini than I normally would because I hadn't seen (Josh) in two weeks.
Article continues below advertisement
"The cops showed up. We don't put a towel on, we don't put a robe on, we just go out there to chat about this neighbor we can't stand in our bathing suits and my boobs look ridiculous!
"I just love it because it's the only scandalous, interesting thing that we've ever had to talk about."
RELATED STORIES:
Katherine Heigl On Talking To Cops In Her Bikini: My Boobs Look Ridiculous!