Exclusive
EXCLUSIVE: Mom Of Tiger Woods' Mistress: My Daughter Is Harassing Me On Twitter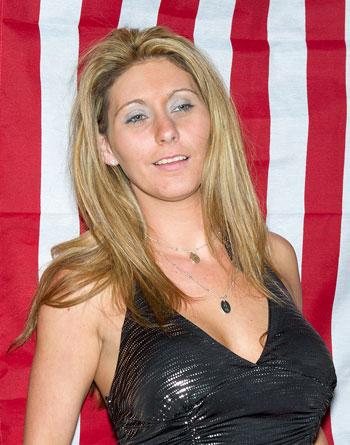 The mother of a hooker who claims to have sold a sex tape of Tiger Woods has gone to police after a friend alerted her that her estranged daughter has been harassing her online.
Sandra Brinling, the mother of Devon James, claims Tiger's alleged former mistress has created a false Twitter account and has been posting inflammatory statements about her.
"To me, this is harassment and the judge said to let him know any time she tries to harass me and it's taken very seriously. If this keeps up I will definitely do something. When we go back to child custody court I will bring these. I've already made copies," says Brinling.
Article continues below advertisement
The Twitter messages are directed to the account @austinmom28, an account Brinling says does not belong to her and that James created to harass her.
Some of the Twitter postings from Devon James to @austinsmom28 read as follows: "ATT. My mother is an evil person! The things she has done to me are UNFORGIVABLE and inhumane. I am deeply injured, by" - and - "u send me letters saying ur happy I was abused! What kind of person r u! I have nightmares of ur abuse! Ur EVIL. U R NO MOM" - as well as - "don't think he doesn't tell me what u do to him, and how u try to (in his words) 'trick' him! He resents u---molester" - and - "ur Not his mother, u are a sorry excuse for a human being!! I hate u and so does Austin!!"
Brinling says, "Anyone that knows me and looks up that account knows it's not me!" adding, "She opened that account. It's not my account, absolutely not. I have enough going on to not waste any time writing back. I'm living my life.
"She's writing to me just to try to make me angry so I will do something, and I would never do anything to her but only to contact the law."
Although Brinling contacted the authorities for help and guidance in this situation, she says she was told there are no laws against what she claims James has done.
Article continues below advertisement
"I called the police and explained to them about this Twitter account and asked them if I have any rights. They stated there are no laws against this and she can do what she wants!"
EXCLUSIVE: Tiger Woods Sex Tape 'Real', Says Hooker's Husband; Rejects Claim It Was Faked
Sandra also claims her estranged daughter must be following her at work.
"I work at Lowe's and one of her Twitter messages reads, "Ring...hello?? Its Lowe's...and ur FIRED..LOL." Brinling says.
EXCLUSIVE: Website Selling Alleged Tiger Woods Sex Tape Goes Live
"She's checking on me to see if I work there and she can see if my car is there. That's the only way she'd know that I work there."
Devon James is the mother of three children – Alyssa, 8; Gianna, 6; and Austin, 9, all who are currently in Sandra's care.
Calls to a rep for Devon James for comment have not been returned.
Related Stories: