EXCLUSIVE: Kim Kardashian Cancelled Diamond Cake Surprise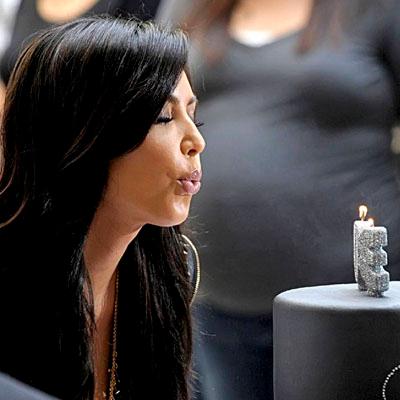 Perhaps Kim Kardashian isn't quite the material girl after all.
The socialite, who turned 30 Thursday, canceled what was to be a surprise $1 million birthday cake in her honor after RadarOnline.com broke the news of the decadent delight.
"Kim was adamantly against accepting the cake," an organizer of the reality star's birthday festivities, GLO Night Club's Danielle Orsino, told RadarOnline.com exclusively. "It's a shame that she couldn't just enjoy it for what it is, a record-breaking diamond-encrusted cake gifted her, a lover of diamonds."
Article continues below advertisement
Manhattan restaurateur Nino Selimaj, who made the cake, was slated to unveil it in a news conference Friday, but has since cancelled the event.
"Her people contacted Nino... thanked him for his efforts and explained they couldn't accept," Orsino told us exclusively. "Kim's fans will be pleased to know that although she will not be accepting the cake, she is still appearing for her birthday at GLO on Saturday, October 23, as planned."
Kim reacted to the news of the pricey cake Thursday, posting on her blog, "First of all, this is the first I've heard about this, and I would never allow anyone to spend that much money on a cake.
"Making a million dollar birthday cake is just ridiculous!" she wrote. "I'd rather they give me a cupcake and donate the rest of the money to the homeless!"
RELATED STORIES: