Exclusive
EXCLUSIVE INTERVIEW: Former Skid Row Drummer Phil Varone & Fiance Engaged - 'Even Though We're Swingers'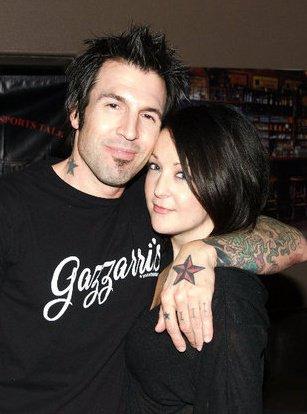 In an exclusive interview with RadarOnline.com, former Skid Row drummer Phil Varone reveals he is engaged even though he and his fiancé are swingers - because "sex with other people makes the relationship stronger".
Varone, 42, recently proposed to Achsha Tatiana EeLise Lamb.
"We met at my 'Sex Stand Up Rock and Roll Show' at the Hollywood Improv," Varone tells us.
"I brought her up on stage because it was her birthday. I tried to embarrass the sh*t out of her by giving her a bag of sex toys and the rest is history."
Article continues below advertisement
It is the first time the iconic drummer will be married and in a shocking twist -- he boasts how he and his fiancé are allowed to sleep with other partners.
"We're in an open relationship and enjoy a lifestyle where we have sex with other people," the drummer says.
"The respect, trust and love for one another is nothing like I've ever imagined or experienced and for that I'm very grateful."
The couple have not set et a date yet. Instead, they're enjoying being newly engaged and plan to tie the not sometime next year.
He says, "We want to have two weddings: one in Hawaii with our family members and then another in Las Vegas with our friends since we live here."
Varone recently signed a contract with Playgirl Magazine to be the Cover and Centerfold of the December 2010 issue.
With the release of the magazine, he's planning to launch the 'Sex Stand Up Rock And Roll' show to the masses with an extensive US tour.
"You can address me as Mr. December from this day forward," he jokes!