EXCLUSIVE INTERVIEW: Jerry O'Connell On Having More Kids - 'We'll Never Catch Up To Octo-Mom!'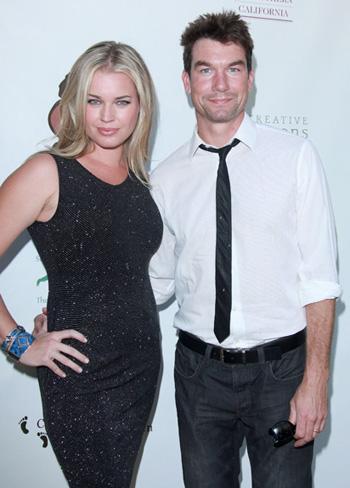 Rebecca Romijn and husband Jerry O'Connell definitely want more kids, but in an exclusive interview with RadarOnline.com, Jerry jokingly warned he didn't think they'd "ever catch-up to Octo-Mom!"
We caught up with the couple at the Children Raising Children fundraiser in Pacific Palisades Sunday. "Every child needs a loving home," O'Connell says. "I'm glad were able to be here and help support."
Their twins -- Dolly Rebecca Rose and Charlie Tamara Tulip -- are now 22 months-old.
Article continues below advertisement
PHOTO: Rebecca Romijn's Magical Post-Baby Body
"The girls are doing great," Romijn, looking stunning in an alice + olivia dress and a lia sophia marble cuff bracelet, told RadarOnline.com. "We would have brought them but we wanted to have a drink and relax a little bit."
The two celebrated their third anniversary in July and couldn't be happier; plus Jerry has a new hit TV series in the CBS courtroom drama, The Defenders.