Exclusive
EXCLUSIVE: Attorney: I Believe Brooke Burke's Boyfriend Knew He Bought Stolen Goods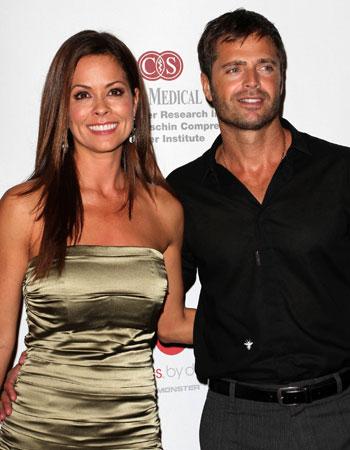 Brooke Burke's live-in boyfriend --former Baywatch star David Charvet -- knew he was buying stolen goods from a high-end design store, charges the attorney representing the victimized store.
The Dancing with the Stars host was deposed in a lawsuit brought by EuroConcepts versus Zalfa "Zee" Halaby, a former store employee.
RadarOnline.com broke the story Monday that Burke was heavily questioned about buying and receiving stolen merchandise. Her deposition is on video and you can see it here.
Article continues below advertisement
In a new exclusive interview with RadarOnline.com, Sanford Passman, attorney for the plaintiffs in the civil suit, said he believes Charvet knew he was buying stolen goods.
"I absolutely believe that Charvet knew what was going on," Passman told RadarOnline.com. "As for whether Brooke knew, who knows? She very well may have turned over all the financial dealings to David but my problem with that is that she went to EuroConcepts, she had Halaby into her house on more than one occasion.
"Maybe David was running the show but how she couldn't have found out I find hard to believe."
Burke and Charvet have two children together. Checks from one of Burke's accounts were made out directly to Halaby instead of to the store in 2007. Halaby was also paid in cash. In her deposition Burke reveals that Charvet sometimes has the ability to authorize checks from her account and also strongly contends she had no idea that Halaby was allegedly cheating her employer.
Article continues below advertisement
In the civil complaint another person accused of purchasing stolen goods is Charvet's brother-in-law Daniel Kessouss.
"Our position is that Halaby had this thing going on for some time and that she had a romantic relationship with one of the defendants, Naftali Amiel," Passman told RadarOnline.com. "Amiel introduced David Charvet to Halaby and also knows another one of the defendants, Charvet's brother in law, Daniel Kessous.
"I think it was one of those situations where one person told another person about the great deal they could get with this woman."
According to Passman, there is also a related criminal case and he theorizes that he can get Halaby to tell all about who knew what.
"If the investigation continues, Halaby will most likely cop a plea deal on her criminal matter, she'll lose her 5th amendment right and I will put her on the witness stand in the civil trial and she'll spill her guts," Passman told RadarOnline.com.
Article continues below advertisement
See the checks Burke wrote to Halaby here.
Passman says he tried twice to schedule a site inspection of Charvet's Malibu home, (which he shares with Burke) but the couple continue to cancel.
He charges that they purchased an outdoor stainless steel gas BBQ, fridge, freezer, microwave and a six burner range from Halaby.
"We wanted to take pictures of the merchandise they had installed in their home so we could match it with the serial numbers of what they bought. But they keep canceling," Passman told RadarOnline.com.
Burke and Charvet allegedly bought roughly $70,000 worth of appliances and, in the deal of a lifetime, only paid about half of that price. According to the complaint, Burke and Charvet paid Halaby directly for the merchandise‹with a check and in some cases, cash. EuroConcepts never saw a penny of the money.
"Our job now is to find out how deeply Brooke Burke and David Charvet are ensnared in this," Passman said.