Danielle Staub's Mansion Up For Sale Under Court Order; She Refuses To Give Up The Keys!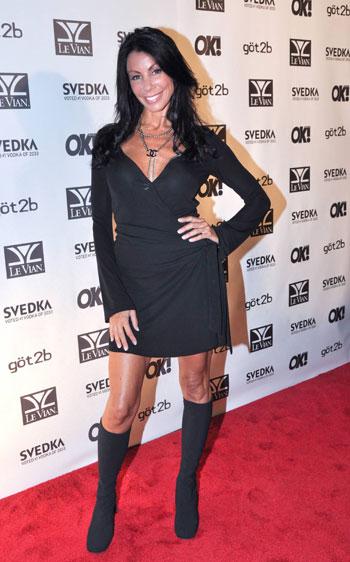 Danielle Staub is moving on from The Real Housewives of New Jersey and moving out of Franklin Lakes, but RadarOnline.com has learned if she can't live in her million dollar mansion, no one can.
Listing agent Bob Lindsay told RadarOnline.com that the reality-TV star's home is currently listed for a reduced $1,095,000 and Staub refuses to give up her keys and "has not let anybody in to show it."
"It's on the market, we just can't get in," Lindsay revealed.
Article continues below advertisement
"Up until this point we haven't been able to get any realtors or any buyers in. My understanding is that she moved out and I'm waiting to get a copy of the keys."
The 6,000 square-food Tudor-style colonial boasts seven bedrooms, a double staircase, mahogany billiard room with wet bar and a pool – and was originally listed last year for $1,495,000 and was re-listed about four months ago under a court order.
According to Lindsay, Staub's ex-husband Thomas Staub "wants his share of the money out of the house."
"Thomas contacted me when the court ordered the sale in February and he signed the listing paperwork," Lindsay said.
"I called her Danielle to get her to cooperate with the order and she pretty much cast me aside and said she didn't intend to sell and planned to refinance and pay her husband off and that was that."
Article continues below advertisement
Lindsay said he notified the attorney that Staub wasn't cooperating and in May the judge amended the order, having a court-appointed lawyer sign for her.
Under the order, Lindsay was to be provided with keys so a lock box could be installed, but that never happened.
"She Danielle refused to cooperate and give us keys. Ultimately after playing around for a couple months, in August they went back into court and a consent order was arrived at between Danielle's attorney and her ex-husband's attorney where she was basically ordered out of the house," he said.
MORE ON:
The Real Housewives of New Jersey
Other than a few text messages a couple months ago, Lindsay said he's had no communication with Staub.
"My understanding is that she only moved out a couple weeks ago and for lack of better expression, is dragging her feet getting the remainder of her personal effects out of the house so that we can show it," he said.
"I imagine if she doesn't give us the keys sooner than later they'll end up having to go back into court…without a court order from the court she doesn't seem to cooperate in any form."
Article continues below advertisement
Despite the designer duds Staub showcased as a housewife, it seems her abode wasn't getting the same attention. The price may be attractive, but aesthetically it isn't.
"If you go by the house now, the landscaping is all overgrown; it's in a state of disrepair," Lindsay said.
"If you took that house and had it in pristine position it would bring more money than that, but that price is reflecting the idea that it's been somewhat neglected…It looks like it's in a gorgeous neighborhood of million dollar homes and it's overgrown."