Charlie The Smoking Chimp Has Died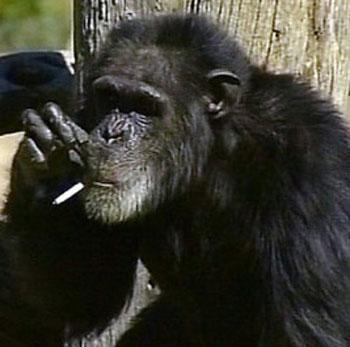 Charlie, the chimpanzee who became famous for his smoking habit, has taken his last puff.
The 52 year-old South African chimp died Tuesday at the Bloemfontein Zoo where he had been a fixture for years.
Charlie first started smoking five years ago when zoo visitors would throw lit cigarettes into his exhibit.
Zoo officials believe the cigarette loving simian died of old age although an autopsy will be done to determine the exact cause of death.
Article continues below advertisement
The spokesperson also says that Charlie's body will be mounted and displayed alongside other popular and now preserved zoo residents.
Lisa Wathne, captive exotic animal specialist at PETA, told RadarOnline.com exclusively of the zoo's decision to preserve Charlie, "We hope the zoo uses this as an alternative to replacing Charlie with another chimpanzee. He lived many years in captivity and his life is over now. What is important is that the zoo not subject another chimpanzee to a miserable life in captivity."