Jury Begins Deliberations In Anna Nicole Smith Drug Trial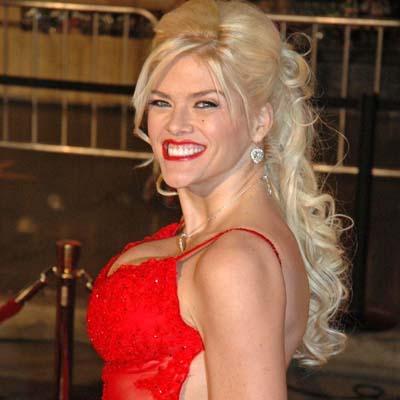 he jury has now begun deliberating in the Anna Nicole Smith drug trial, RadarOnline.com has learned.
The fate of the three defendants went to the six-man, six-woman panel at 9:00 a.m. local time in Los Angeles, California.
Smith's one-time attorney Howard K. Stern, psychiatrist Khristine Eroshevich and medical internist Sandeep Kapoor are accused of conspiring to prescribe, administer and give substances to an addict. They are not charged in connection with her death.
Article continues below advertisement
EVIDENCE: Do These Photos Prove Anna Nicole Was Not A Drug Addict?
The former Playboy playmate and reality TV star died from an accidental prescription overdose in Florida on February 8, 2007. She was 39. The prosecution finished presenting its case last week, while the defense raised eyebrows by not putting on a single witness.
During closing arguments last week, Stern's attorney Steve Sadow told the jury there was an ``abundance of reasonable doubt'' in the prosecution's case against Stern and the two doctors.
But Deputy District Attorney Renee Rose said the evidence presented during the trial showed ``that these defendants knew what they were
doing was wrong'' and that "they knew their conduct was unlawful.''
Rose questioned why Kapoor kept a second set of medical records for Smith. The records found in his closet were different from records in his medical office that were turned over to his attorney.
"Did Dr. Kapoor create another set of records to cover up his guilt?'' Rose asked, adding that he lied to police about having any of the documents in his home.
Article continues below advertisement
She said Kapoor was "not acting like a doctor'' by continuing to prescribe drugs to Smith after she stopped going to his office in October 2005. Rose also pointed out that most people don't have a doctor who will travel to the Bahamas to treat them -- as Eroshevich did for Smith, who was her next-door neighbor.
Eroshevich "was the one doctor willing to give'' the powerful respiratory suppressant, chloral hydrate, to Smith, who "liked it,'' Rose told jurors.
A pharmacist alerted Stern that something was wrong with the high dosage levels of prescription drugs requested in a fax sent from Eroshevich to Kapoor, and forwarded to the pharmacist by Kapoor, the prosecutor said.
Stern's attorney questioned the credibility of three key prosecution witnesses -- a bodyguard and two nannies who had worked for Smith -- and disputed the prosecution's contentions that medication was being prescribed to feed Smith's addiction.
Article continues below advertisement
"Anna has acute pain and the emotional pain at this point is overwhelming,'' he said, referring to the C-section birth of Smith's daughter and the death of her 20-year-old son, Daniel, three days later.
Sadow lashed out at prosecutors, saying they belittled Smith's life, showed no regard for the chronic pain she suffered for years and trashed Anna "as an out-of-control drug addict.''
Kapoor's attorney, Ellyn Garofalo, said the criminal case against her client never would have been brought if Smith had not been a celebrity.
"Our laws are designed to stop (prosecutors) and law enforcement from second-guessing physicians. If Anna Nicole Smith was not a celebrity, Dr. Kapoor would not be sitting here,'' she said.
Garofalo told jurors that the doctor followed the same course of treatment Smith had been getting from the physician whose practice he had bought and prescribed virtually the same medications for her.
Garofalo told the jury that her client was acting in "good faith'' and had a "legitimate medical purpose'' in prescribing medications to Smith.
Article continues below advertisement
Eroshevich's attorney, Bradley Brunon, said in his closing argument that she reached out on an "emergency mission" to help Smith after Smith's son died and did what she could to try to help her in a time of crisis.
Last month, Los Angeles Superior Court Judge Robert J. Perry granted the defense's motion to acquit Stern of fraudulently obtaining a prescription for methadone and Dilaudid and getting a prescription for the two drugs by giving a false name.
The judge also knocked out a portion of the allegations in one of the conspiracy charges against Stern and Kapoor, ruling the prosecution had not presented sufficient evidence that the two had conspired to obtain a controlled substance by fraud, deceit or misrepresentation or issue a prescription that was false or fictitious.
Nine felony charges remain against Stern, including conspiracy, unlawfully prescribing a controlled substance, obtaining a prescription for opiates by fraud, deceit or misrepresentation, obtaining a prescription for opiates by giving a false name or address and prescribing, administering or dispensing a controlled substance to an addict.
Article continues below advertisement
Kapoor and Eroshevich are each charged with six felony counts.
The charges against them include unlawfully prescribing a controlled substance, prescribing, administering or dispensing a controlled substance to an addict and conspiracy to commit a crime.
The trial last nine weeks.
Stay with RadarOnline.com for more on this developing story.
Related Stories: