Exclusive
ON RADAR FIRST: Audrina Patridge's Mom Apologizes For Videotaped Tirade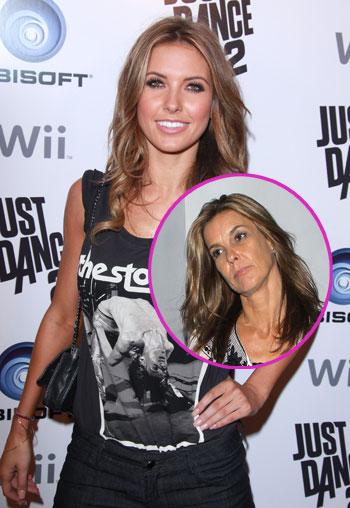 Audrina Patridge's mom Lynn made waves this week after a tirade in which she slammed The Hills and Lauren Conrad was videotaped and hit the internet. On Thursday, Lynn opened up about the incident in a statement RadarOnline.com was the first to receive.
"I am sincerely sorry for the negative things I said in the heat of the moment," Lynn said.
She added that her comments came from a place of deep love for her daughter and were said while she was still in shock from Audrina's surprise elimination from Dancing with the Stars.
Article continues below advertisement
"As a mother, there is no pain in this world like seeing your children upset. I am so proud of my daughter and all she has accomplished on Dancing with the Stars. I was extremely emotional after her elimination--it just came as such a shock. I want to apologize for offending anyone."
On Tuesday night after Audrina was eliminated from the show, the brunette bombshell headed to Beso for dinner with some family and friends. During a cigarette break outside, a protective Lynn unleashed an uncensored critique on the MTV show and Patridge's former co-star.
"We're going to f—king smoke- especially Lauren Conrad's pi—y a— little fashion sh-t. That b—ch wants to bring it on, let's go," Lynn said. Resisting a friend's impulse to bring her back into the restaurant, Lynn later added: ""I've been a celebrity mom for eight years through this Hills bulls—t, but Drina is going to the next level baby. She's got it in her...F—king Hills girls, Hills trash. My baby is a star."