With ZOMM, You'll Never Lose Your Phone Again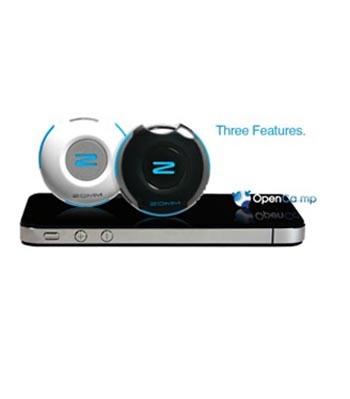 We've all had that dreaded moment when you can't find your cell phone.
You look under the couch cushions, zilch. You scour the last place you saw it, nada. If you're lucky, maybe someone's around that can call the phone -- assuming the ringer's on and power hasn't run out yet. Your contacts, e-mails, personal info, maybe some pictures you don't want getting out -- you really need to find that thing.
Article continues below advertisement
Hammacher Let There Be Light And Sound With iPod Lamp:
With ZOMM, you'll never have phone loss anxiety again, as this affordable unit -- which fits onto your key chain -- vibrates, flashes and sounds an alarm letting you know that you're leaving your phone behind.
But that's not all it does: The ZOMM is also outfitted with a security feature, as when you hold the unit's Z-button down for nine seconds, it emits a loud panic alarm; hold it down for five more seconds, and ZOMM will call emergency assistance automatically using your Bluetooth connection.
iPad Users : Dolce & Gabbana Now Making Designer Cases For Your Baby:
In addition the ZOMM is equipped with a high-quality speaker that allows hands-free talk. Not a good time to talk? Press the Z-button twice, and your incoming call goes directly to voicemail.
Best of all, its something just about everyone can own, as its usefulness exponentially outweighs its modest $79.99 price tag.
The ZOMM is available at Best Buy, or online at ZOMM.com.