iPad Users: Dolce & Gabbana Now Making Designer Cases For Your Baby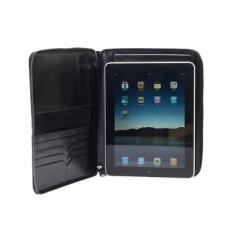 By now you've got the iPad and love the amazing efficiency it brings to your life.
Now, its time to snazz it up a bit, as Dolce & Gabbana has released their first-ever collection of cases for the unit, integrating the revered brand's reputation for craftsmanship excellence, precious materials, practicality and clean lines into a product that will protect and stylize the Apple-made gem.
Article continues below advertisement
The cases, which are available in the men's and women's 2011 cruise collections, come in a variety of styles, materials and colors to reflect your individuality -- and get a few oohs and aahs from your friends and colleagues in the process.
Features in the women's collections include: the classic open case in leopard print patent leather, available in natural, red, green, yellow or monochrome versions in nappa or python skin; cases, with or without handles, featured with zips on three sides; and internal compartments to hold objects and business cards.
The men's collection features open cases in nappa and python skin in the monochromatic black variant; a flat case with external pocket, and hand-held case, both with zips on three sides in the monochromatic black calfskin versions; and internal compartments to hold objects, business cards, power cables or cell phones.
Check with your local Dolce & Gabbana retailer for more on this spectacular addition to any i-collection.