VIDEO: TBS Releases Promo For Conan O'Brien's New Show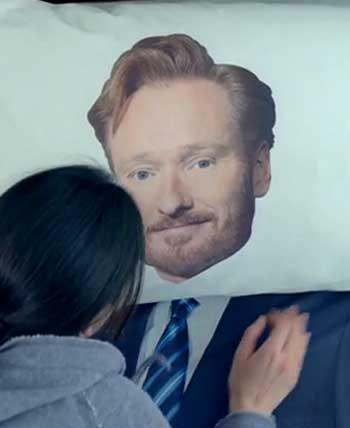 A new TBS promo for Conan O'Brien's new show hit the Internet on Wednesday, in a funny spoof about his return to television.
In the video, a woman is making her bed when she notices something on her pillow. As she crawls across her bed, she realizes it's Conan's face as John Waite's Missing You plays.
VIDEO: Conan Hasn't Heard From Leno, O'Brien Says In 60 Minutes Interview
Conan's return to late night has been hotly anticipated since he left The Tonight Show. Called simply, 'Conan,' the show premieres November 8 on TBS.
Article continues below advertisement
In January, Conan's reign on the NBC's The Tonight Show came to an abrupt end but the show was still nominated for an Emmy for variety, music or comedy series. Sadly for Conan, the Emmy went to "The Daily Show With Jon Stewart," with its eighth consecutive win.
VIDEO: Watch Another Conan Promo Here
O'Brien has just finished his comedy tour and is hard at work getting his new show ready for it's November premiere.