VIDEO: Sister Wives 'Devastated' Their Husband Kody Kissed New Wife Before Marriage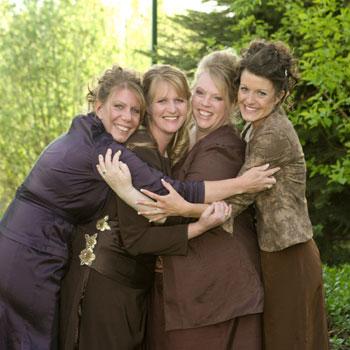 The complicated balancing act Kody Brown must do to keep his wives happy hits a snag in the upcoming episode of Sister Wives and in the sneak peak, Christine is upset when she learns some shocking news about the potential new wife.
"I found out that Kody sealed the engagement with a kiss," Christine said about his proposal to Robyn, the soon-to-be fourth wife.
Describing her own relationship with Kody, Christine said "We didn't kiss until over the alter because I didn't feel right about kissing a married man."
Article continues below advertisement
"It was devastating," she revealed.
Robyn is equally emotional about hurting her future sister wife. "I got really upset because I knew I'd hurt you," she said to Christine.
In tears, Robyn says, "I knew it would be complicated, but I didn't know it would break my heart as well."
The stars of TLC's new reality show Sister Wives are under police investigation in Utah for a possible charge of felony bigamy, RadarOnline.com has learned.
Police in Lehi, Utah, said they began looking into salesman Kody Brown and his four wives even before the show debuted Sunday.
"At the conclusion of the investigation, the evidence will be forwarded to the Utah County Attorney's Office for review and possible prosecution," says a police spokesman.
Police acknowledged that the widespread publicity surrounding the show sparked the investigation.
Sister Wives airs on TLC Sunday at 10 pm.