VIDEO & PHOTOS: Mariah Carey Falls Onstage During Concert In Singapore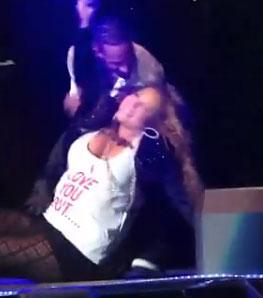 Mariah Carey -- who has yet to publicly confirm that she is pregnant -- stumbled and fell in the middle of a performance this weekend in Singapore, but laughed it off.
Watch the video on RadarOnline.com
Carey, 40, was wearing her trademark high heels when she lost her footing while singing her 1992 hit Make It Happen on Saturday. Her dancers quickly helped her up, and she jokingly told the crowd, "I did that on purpose!"
Article continues below advertisement
A female assistant removed Carey's shoes as she continued to sing; she finished the 90-minute performance barefoot.
Carey was in Singapore, along with Missy Elliott and Adam Lambert, to perform a series of concerts this weekend at the Padang in celebration of the Singapore Grand Prix.
And interestingly, during another concert on Sunday, Carey drank from a champagne glass while on stage, although there's no way to know if the glass contained champagne or a non-alcoholic drink.
The Grammy award winning singer later took to Twitter to thank her fans.
"TY SO much to my fans in Singapore!!! Yeah, several hectic moments, (lol!)but I tried to swirl them into festive!.Love+ God Bless!
"Again Singapore, thanks so much for allowing me to just be who I am &just have fun+connect w/everyone there! Thanks 4 the LOVE!x0x," she Tweeted.
RadarOnline.com exclusively reported on August 25 that Carey was four months pregnant at that time.
The Hero singer and husband Nick Cannon are overjoyed, but have decided not to talk about the pregnancy publicly and are only sharing the news with close friends.
Over the summer, Carey released a statement via her publicist, Cindi Berger, saying:
'I appreciate everyone's well wishes but I am very superstitious.
'When the time is right, everyone will know - even Cindi Berger.'
Cannon, 29, has echoed his wife's sentiments. On his radio show in August, he said, "I've said it before and I'll say it time and time again - when my wife feels like talking about whatever she wants to talk about, you will hear it directly from her."