VIDEO: Celebs Ready To Stand Up To Cancer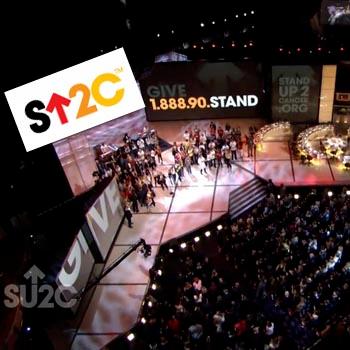 The third-annual Stand Up To Cancer telethon will air Friday night on all the major networks and many cable ones as well, as more than 100 famous faces will take part in the prime-time charity drive in hopes of raising funds for medical research to take down the deadly disease.
VIDEO: Musical Stars Stand Up For Cancer
News royalty Katie Couric, Diane Sawyer and Brian Williams will host the event, which will include appearances by Jay Leno, Ryan Seacrest, Gwyneth Paltrow, Renée Zellweger, Denzel Washington and George Clooney, who was honored for his extensive charity work with the Bob Hope Humanitarian Award at last month's Emmys.
Article continues below advertisement
Celeb cancer survivors such as Christina Applegate, Maura Tierney and Michael C. Hall will also appear at the benefit, which has raised more than $100 million since its 2008 inception.
Stand Up...With Renee Zellweger And Rob Lowe
President Obama is even expected to make an appearance -- most likely, via videotape.
The hour-long show begins at 8/7c and airs on ABC, CBS, FOX, NBC, Discovery Health, E!, G4, HBO, HBO Latino, MLB Network, Showtime, The Style Network and TV One.