'Tis The Season For Wall Street Bloodsuckers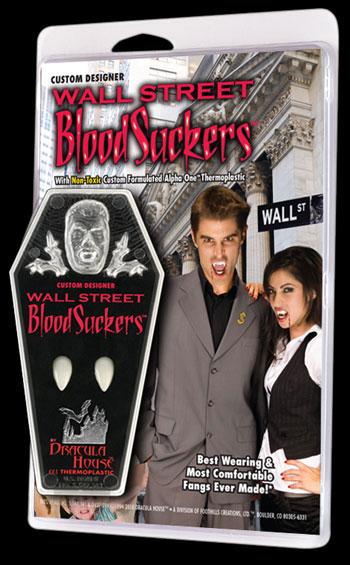 So when you think of the phrase "Bloodsucker," who, or what comes to mind?
Bram Stoker's Dracula? Eh. Twilight's Edward Cullen? Perhaps. True Blood's Sookie Stackhouse? Could be.
Have The Time Of Your Life All Over Again:
How about Wall Street's Gordon Gekko? The ruthlessly aggressive banker, portrayed by the great Michael Douglas in the 1987 and 2010 films, looks to us like the perfect poster boy for the phrase bloodsucker, especially in these times.
Article continues below advertisement
Take The UFC Home With You With JAKKS:
We're talking about the bloodsuckers who reside in Manhattan, and can be found leeching off retirement plans, savings accounts, foreclosed homes and the American taxpayer.
Yes, these faux fangs, that will delight and horrify your pals, are amongst the best engineered and most comfortable on the market, with a unique custom partial plate application to fit your bite to a tee. You can take them in and out as you please, and they won't fall out. Even better, no mixing of toxic chemicals mean no foul taste.