Take The UFC Home With You With Jakks!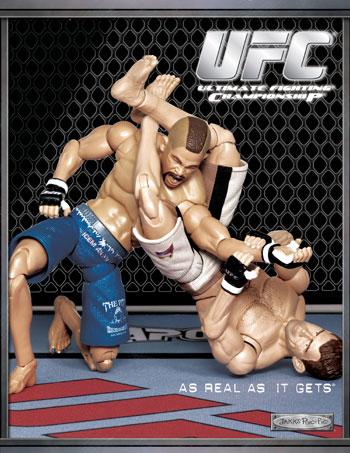 With its rabid fan base, record-breaking Pay-Per-View numbers and a top-selling magazine, the UFC continues setting high-water marks in popularity as fans flock to the gut-wrenching battles between the warriors of the Octagon.
Now, Jakks has rolled out a collection of action figures of the most popular past and present fighters from UFC, Pride and WEC, available at retail locations near you.
Randy Couture, Chuck Liddell, Brock Lesnar, Frank Mir, Royce Gracie, Tito Ortiz -- no stone is left unturned in these detailed, articulated action figures great for play or display. In addition, Jakks makes a scale-size Octagon, as well as replica belts, to round out the must-have assortment for any rabid fan.
Article continues below advertisement
Couture, who's currently starring in the ensemble cast of the hit film The Expendables, told MMA Figs this summer that "its kinda surreal to have an action figure.
Sweet! Dylan's Candy Bar Barbie Doll Available Now
"I have a 7-year-old boy that likes to play with the action figures, so it's really cool," Couture said, joking that he'd like his figure compared against that of one of his real life opponents, 6-foot-8 fighter Tim Sylvia.