PHOTOS: Teri Hatcher Shows Off Her Hot Bod, Gets Set For Triathlon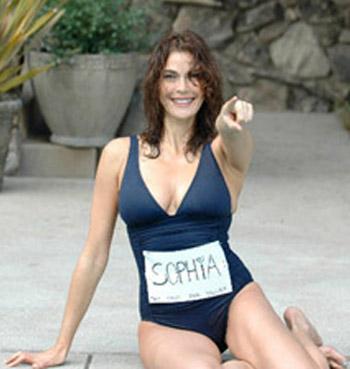 Teri Hatcher is competing in the Nautica Malibu Triathlon Sunday, and the Desperate Housewives star is giving it her all to help out a sick little girl named Sophia, RadarOnline.com has learned.
On her Facebook page, Teri posted photos of herself in a striking blue swimsuit. She's wearing a sign that says, "Sophia: This One's For You!"
Sophia, the actress explains, is the daughter of Joel Rothman, who wrote to her about his two-year-old daughter Sophia, a patient at Children's Hospital Los Angeles. Sophia has Juvenile Rheumatoid Arthritis and is blind.
Article continues below advertisement
Her story touched Teri's heart and she made the little girl the focus of her fund-raising efforts as a Triathlon contestant.
"After checking the water forecast, I now know that when I dive into the 60 degree shoreline at 7 am for a Sunday adrenaline based swim, they'll be one beautiful girl to reach stroke after stroke for. And that's Sophia."
Hatcher is competing in the swimming race only; she says she's just not in the same shape she was a year ago when she swam, biked and ran.
Sophia's family doesn't care. She's still a hero to them!
RELATED STORIES:
Teri Hatcher Finishes 2009 Malibu Triathlon
Nicollette Sheriday Files Lawsuit Against Desperate Housewives Creator
VIDEO: James Denton Says Housewives Cast Is Staying Clear Of Nicollette Sheridan Lawsuit