PHOTOS: Sexy Style At The MTV Video Music Awards Over The Years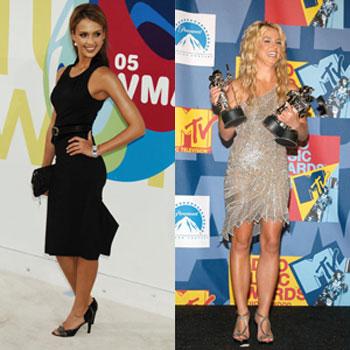 Before RadarOnline.com brings you the Best, Worst & Wackiest Fashions live from the red carpet of the 2010 MTV Video Music Awards on Sunday night,
check out all the sexiest red carpet fashions in the history of the music awards show, where the hemlines are high and the dresses are tight!
Lots of leopard has prowled down the press line of the show over the years, and we aren't complaining! In 2005 Gwen Stefani and Lindsay Lohan both had us purring with delight, wearing timeless and tasteful pencil dresses, which showed off every curve on their flawless figures!
Article continues below advertisement
Though Taylor Swift suffered an embarrassing moment onstage with Kanye West at last year's show, the country cutie scored herself support from every star in the crowd---and fashion critics---by rocking not one, but two fab ensembles. Katy Perry also foxed it up for the event, wearing a spiked and sassy mini from the Blonds Spring 2010 collection, which was much more Hot than Cold!
Jessica Alba showed off her banging body in 2005, wearing belted black tank dress, which clung to her curves in crave-worthy style. And then there was
MORE ON:
Hayden Panettiere
Britney Spears' fashion fete, when she scored several awards in 2008, clad in an impeccably beaded Versace number.
You won't want to miss RadarOnline.com's MTV Video Music Awards Fashion Flashback!