PHOTOS: Paris Hilton Leaves Japan; Tweets 'I Promise To Come Back Soon'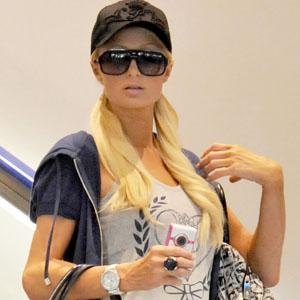 Sayonara, Paris.
The controversial socialite was spotted Wednesday at Narita Tokyo Airport in Japan after being kicked out of the country because of her recent drug arrest in the U.S.
"I'm going back home, and I look forward to coming back to Japan in the future," Hilton- wearing a black baseball cap and a navy sweat suit-told reporters before departing on her private jet.
"I'm really tired," she added.
Article continues below advertisement
As RadarOnline.com was first to report, Hilton, 29, was detained and questioned for several hours over two days after arriving in Japan late Tuesday. Japan has strict immigration laws that bar entry to those convicted of drug offenses, although exceptions are occasionally granted.
Only a day before she arrived in Japan, Hilton copped a plea stemming from her arrest in Las Vegas last month on cocaine charges.
In exchange for prosecutors dropping a felony charge, Paris pleaded guilty to two misdemeanors and was given a suspended sentence, fined and ordered to perform community service.
Hilton was to appear Wednesday at a news conference in Tokyo to promote her fashion and fragrance lines.
In addition to canceling that appearance, Hilton also abruptly nixed planned appearances in Kuala Lumpur, Malaysia, and Jakarta, Indonesia.
Article continues below advertisement
Her publicist, Dawn Miller, said Hilton plans to make the trips at a later date.
"Paris is very disappointed and fought hard to keep her business commitments and see her fans, but she is forced to postpone her commitments in Asia," she said in a statement. "Paris understands and respects the rules and laws of the immigration authorities in Japan and fully wishes to cooperate with them."
Just before taking off, Hilton tweeted a message to her fans.
"Going home now. So disappointed to miss my fans in Asia. I promise to come back soon. I love you all! Love Paris xoxo."