PHOTOS: Blake Lively Is The New Sarah Jessica Parker!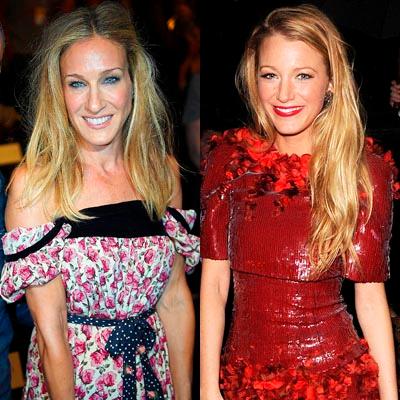 Sarah Jessica Parker has held the title as New York City's sexiest star ever since Sex & The City made her a worldwide fashion icon.
But the Emmy Award winning style queen has been dethroned, as Gossip Girl star Blake Lively moves to fill SJP's Christian Louboutins!
Both of these style sirens hit the big screen before making it onto the small screen, but it was their popular television programs which sky-rocked them into fashion fame.
Article continues below advertisement
Just like Sarah Jessica morphing into Carrie Bradshaw, Blake's fearless sense of style, has clearly been shaped and molded by her onscreen character Serena van der Woodsen.
Onset, she models the hottest couture from Christian Dior, Givenchy and Oscar de la Renta, carrying the glamour and grace with her as she struts down the red carpet of the most exclusive premieres and charity events.
One of the people who helped SJP become one of the biggest style icons in the world, was the Devil herself - Anna Wintour.
Sarah Jessica has graced the cover of Vogue several times over the years and the powerful magazine editrix has made it no secret that she is one of the star's biggest fans.
But now Blake is on Anna's short list of Vogue cover girls. In less than two years, she has scored the coveted cover twice!
Designers are dying to dress Blake, because they see the influence she has in the fashion world.
Just like Sarah Jessica, the CW babe has forged a friendship with luxe lines such Marchesa and Chanel -- she was even one of the first Hollywood starlets to be spotted in Victoria Beckham's collection, which left fashion insiders speculating to whether she would be Posh's Muse.
Article continues below advertisement
When it comes to their personal lives, the parallels are striking!
Neither New York mascot is even a native! Blake is from Southern California, while Sarah Jessica was born in Ohio.
And like Sarah, Blake knows that the best way to remain scandal free is to fall in love with a nice guy!?
While SJP calls Matthew Broderick hubby, Blake is clearly smitten with her beau of a few years, co-star Penn Badgley.