PHOTOS: The Worst & Wackiest Fashions In Emmy History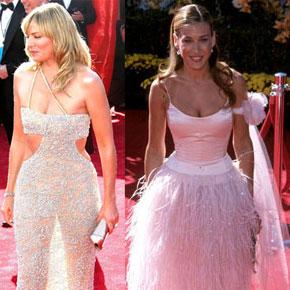 With their fat bank accounts and A-list stylists, it is a wonder how stars still manage to land themselves on the Worst Dressed list!
Halle Berry, Hayden Panettiere and Sarah Jessica Parker are just a few of the super celebs who have experienced style slip-ups on the glamorous red carpet of the Emmy Awards over the years. RadarOnline.com takes you on a trip down red carpet memory lane, bringing you the Worst & Wackiest moments in the history Emmy fashion!
Article continues below advertisement
Hayden Panettiere wasn't exactly a fashion Hero in 2007, drenched in a rather baggy maxidress, which totally hid her fab figure, but at least like she didn't resemble a western showgirl, like Cher did in 2000. We are pretty sure the singer/actress wished she could Turn Back Time and pretend her sequined jeans, silk shirt and color-blocked boots ensemble never happened!
Sarah Jessica Parker followed up her feathered ballerina dress disaster in 2000, with another feather faux pas in 2004 (at least she won the Best Actress award that year), while Kim Cattrall learned that there is such a thing as too Sexy in the City, wearing a shockingly sheer cutout gown to the show in 2003. She should have taken some pointers from Geena Davis, who made the same mistake (plus a few more!) in 2000, showing up in a dizzying optical illusion print frock, which exposed a little too much for the eyes to handle.
What does it look like when a teenage actress mistakes the Emmy's for Prom? Family Ties star Tina Yothers in 1986, who looked like an extra from Pretty in Pink.
From Helen Mirren in a sari to Katherine Heigl's sweaty wardrobe malfunction, you won't want to miss these Worst & Wacky moments before you tune into the 2010 Emmy Awards on Sunday night!