PHOTOS: Bikini Blondes VS. Brunettes! Who Is Sexier?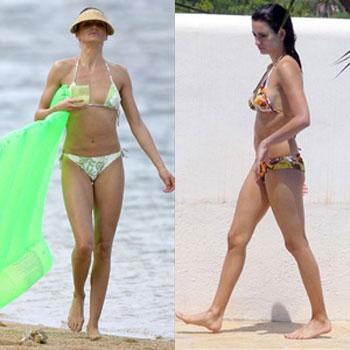 They say blondes have more fun, but do they also make a bigger splash at the beach?
RadarOnline.com has photos of the sexiest stars from television to the big screen, who share many things in common -- but not their hair color!
Leading ladies Cameron Diaz and Penelope Cruz both dominate the box office and the red carpet in leading lady style, but when the two strip down and hit the sand, which of them comes out on top?
Article continues below advertisement
Sexy Miranda Kerr is one of Victoria's most sought after Secrets.
The awesome Aussie not only has one of the most coveted modeling contracts in the world with the lingerie line, but has also scored herself one of the biggest hunks in Hollywood.
But Brooklyn Decker also scored herself a grandslam, splashing covers of Sports Illustrated, trying out her acting chops in blockbuster films and landing herself one of the hottest athletes in the world.
Which of these babes brings more heat to the beach?
From The Hills hotties Audrina Patridge and Kristin Cavallari to hottest Housewives in history, these ladies are hot regardless of their hair, but only one will come out on top!