Movie Review: Waiting for "Superman"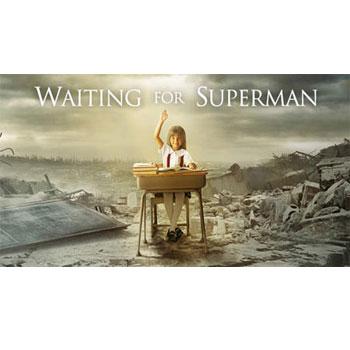 Waiting for "Superman" is a tour de force, hooking you from the second it starts, and hanging on long after the credits roll. The latest opus from director Davis Guggenheim (An Inconvenient Truth) tackles the failure of public education in America, taking on questions of funding, leadership and our fundamental beliefs about education.
It helps that Guggenheim is a master filmmaker, milking every emotional sucker-punch and each zinger of a sound bite for all they're worth. In this polished, briskly paced documentary, everyone from schoolchildren to superintendents, frustrated parents to policy wonks, have a say. Guggenheim begins with an admission of guilt for sending his own children to private school -- a lament that's likely a common one for parents of a certain class and world view -- and a decision that betrayed his ideals. What follows is an earnest examination of a system gone terribly wrong, but with a clear point of view: If we have so miserably reneged on the promise of public education, what does that say about us, as a society? And what can we do to turn the ship around?
Article continues below advertisement
But "Superman" isn't all gloom and doom. Along with our cast of world-weary kids, there are also handy primers on the complexities of our public education system, laid out in entertaining, animated sequences that boil down the facts and establish context. In Guggenheim's view of this history of major politicking and meager accountability, no single person or governing body is to blame. Presidents from both parties, union leaders, crappy teachers and bureaucrats all get hung out to dry. The profound problems presented in the film seem that much scarier because no one is exempt -- and America's future is hanging in the balance (just in case you doubt it: Bill Gates appears to say that we're officially screwed).
One of the movie's most compelling figures is Geoffrey Canada, who created an innovative approach to education in Harlem, where he transformed one of the nation's poorest and least-successful school districts into a template for achievement. Canada's knowledge and vision for success largely drive the narrative. Describing his own frustrations and bumps in the road, he speaks bluntly about how tough it is to fix education's deep-rooted, systemic breakdown (at one point, he admits he thought it would take him "two, maybe three years" to solve its woes... That was in the 1970s), and how kids are routinely left out in the academic cold.
While it's Canada charismatic voice that outlines just how bad things are, it's also his that reveals what works, and why. Sure, Superman makes a cameo, but "Superman"'s real hero is Canada, along with his fellow, like-minded educators, and the filmmakers who are bringing this movie to the masses. If nothing else, Waiting for "Superman" makes it glaringly obvious that we're way, way overdue for a dialogue about what's wrong -- and for some seriously tough love to point the way forward.