Movie Review: Easy A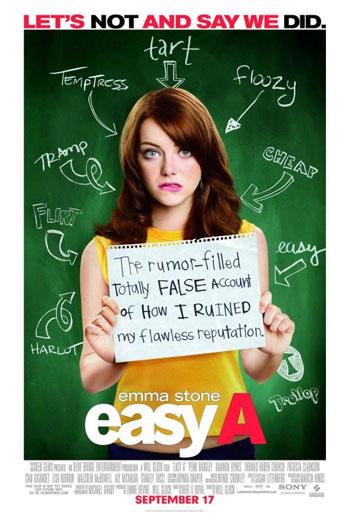 How does a good-girl go from anonymous to absolutely scandalous -- overnight?
In the energetic, teen-tastic Easy A, Olive (Emma Stone) is a precocious high-schooler in Ojai, CA, who lets her friend believe that she lost her virginity. Fueled by hormones and high-speed camera work the rumor takes flight, landing Olive on the social map for the first time since freshman year. Tossing a few more logs on the fib inferno, she agrees to fake a romp with a gay friend, and soon she not only has a naughty rep with a capital R, but a growing queue of pubescent customers seeking a similar boost in popularity.
Article continues below advertisement
Like the best of its genre, Easy A has little bearing on reality, but plays up all that's unjust and idealized about high school with a slick pace, ironic tone, steady stream of jokes and up-to-the-minute soundtrack designed for the class of 2014. Filling in the standard-issue high school characters are the mean girl (here it's super-chaste Marianne, played by Amanda Bynes), the hot guy (Woodchuck Todd, played to hunky effect by Penn Badgley) and the cool teacher (Mr. Griffith, played by a laid-back Thomas Haden Church). But even the dizzying, oh-so-modern feel of just about everything -- including Olive's parents, played to progressive perfection by Stanley Tucci and Patricia Clarkson -- is simply gloss over the well-trodden issues at the heart of the story.
As Olive's sauce-factor steadily rises, so does her sense of isolation and ostracism. In adolescent style, she takes her English class material to heart, deciding she's just like the maligned Hester Prynne in 'The Scarlet Letter' and affixing a red "A" to her increasingly exposed chest. Olive's struggle for identity is tried and true but far less cloying than it sounds; the script keeps its teens supplied with self-aware quips fit for a generation steeped in pop culture, and geared up for information at a breakneck pace.
Stone's ability to walk the line between irony and acting and a surprisingly high-profile cast give Easy A some grounding in its blurry rush of one-liners (which sometimes go much too far). We never quite feel her pain, so much as see it (she narrates in a web-cast, obvs!), but get some laughs along her journey from innocence to semi-adulthood -- set in the safety of a movie set and good, old-fashioned abstinence.