Lookz – Beauty App For iPhone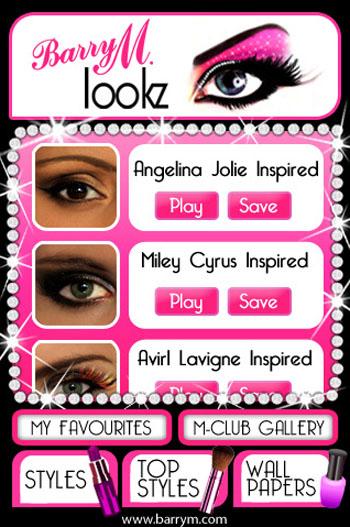 Lookz - Barry M - Makeup, Beauty, Fashion and Style -- is a handy dandy iPhone app for beauty on the go. The mobile app is your go-to for make-up tips, video tutorials, and style essentials. Lets say you suddenly need a "Clubbing" look. Pop up the app and all the instructions will having you looking like Lindsey Lohan , minus the Scram braclet, jail time, rehab...
The categories include Nails, Catwalk, Bollywood, Goth, Emo, Everyday, Clubbing and Celebrity inspired Lookz from Miley Cyrus, Lady Gaga, Katy Perry and Beyonce. Perhaps the handiest section is 'Learn the Basics' -- helping you with new skills and techniques.
Article continues below advertisement
Created by Barry M Cosmetics, with the help of some of the web's expert make up experts, Lookz provides the latest "Celebrity and Fashion Lookz, plus tricks of the trade, gossip and news on the latest trends."
Red Carpet Secret Weapon: Fake Eyelashes From Make-up Mandy
We can't think of a time when we needed instant make-up advice (more like how-to-get-a-stain-out advice) but it's good to have it on our phone. Just in case...