BREAKING NEWS: Lindsay Lohan Ordered Back To Jail; Bail Revoked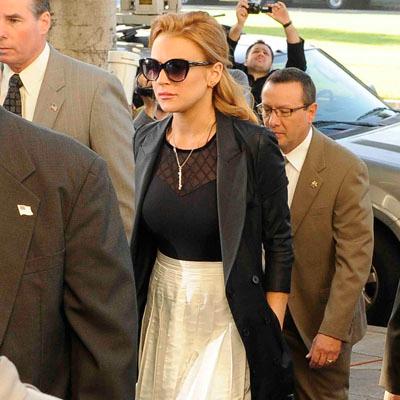 9:08 a.m. PST: The judge has thrown the book at Lindsay. Her bail was revoked. She was handcuffed and taken into custody. A probation hearing was set for October 22nd. Lindsay appeared stunned.
8:22 a.m. PDT: Lindsay has entered the courtroom. Her mother Dina is there. Her father Michael was held at the courthouse doors. He said, "I love you." Lindsay did not acknowledge him.
8:08 a.m. PDT: Lindsay has arrived at court.
Article continues below advertisement
8:01 a.m. PDT: Lindsay has left her home for the courthouse.
Is Lindsay Lohan about to go back to jail? She'll find out soon enough.
Lohan - who recently failed two court-ordered drug tests - is expected to show up to Los Angeles Superior Court in Beverly Hills, CA. around 8:30 a.m. PDT Friday to face the same judge who let her out of rehab early and warned her he would send her back to jail if she didn't clean up her act.
It will actually be Lindsay's first time facing Judge Elden Fox, who was assigned to the case after the previous judge, Marsha Revel, stepped down from the case.
When Fox agreed to let Lindsay leave rehab after serving only 23 days of her 90-day rehab sentence imposed by Revel, he warned the troubled starlet that he would sentence her to one month in jail for each drug test she failed or skipped.
As RadarOnline.com has previously reported, the Mean Girls star, 24, tested positive for cocaine at a random drug screening two weeks ago. She also failed a second random test which showed amphetamines in her system.
Article continues below advertisement
The dirty test results came only two weeks after she was released early from her court-ordered rehab.
Earlier this week, Lohan fessed up to the dirty drug test via her Twitter page, calling it at "setback", and saying she was ready to face the consequence.
After the dirty test came back, Judge Fox revoked the star's probation and issued a no-bail bench warrant for her. The warrant requires her to appear in court Friday or face arrest.
However, if Lindsay is sent back to jail, she will likely serve only a fraction of whatever sentence she receives due to jail overcrowding. In addition to jail, Judge Fox could also throw her back into rehab.
As you'll recall, in July, Judge Revel sentenced Lindsay to 90 days behind bars and 90 days in rehab for violating conditions of her parole related to a 2007 DUI conviction. She was released from jail early due to good behavior and overcrowding.
Judge Fox has denied media requests to have a camera in the courtroom during Friday's hearing, preventing a live shot of Lohan's reaction when the ruling is handed down.
radar_embed service=5min.com src=" http://pshared.5min.com/Scripts/PlayerSeed.js?sid=1126&width=486&height=412&playList=517712117&sequential=1&shuffle=0"