Lindsay Lohan Admits Failed Drug Test, Says 'I'm Prepared to Face the Consequences'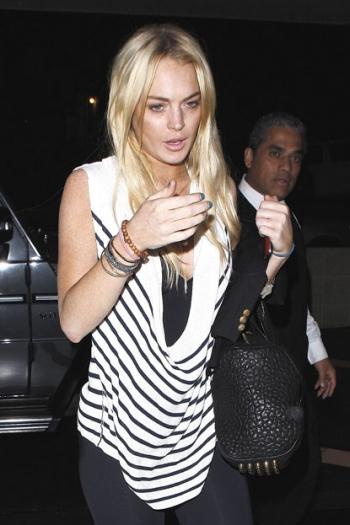 Lindsay Lohan has admitted she failed a court-ordered drug test less than three weeks after being released from a rehabilitation program.
Despite earlier denials, Lohan posted on her Twitter late Friday: "Regrettably, I did in fact fail my most recent drug test."
EXCLUSIVE: Lindsay Tested Positive Because I'm Not In Her Life, Claims Dad
She added, "Substance abuse is a disease, which unfortunately doesn't go away over night. I am working hard to overcome it and am taking positive steps forward every day. I am testing every single day and doing what I must do to prevent any mishaps in the future."
Article continues below advertisement
"So thankful for the support of my fans, loved ones and immediate family, who understand that i am trying hard, but also that I am a work in progress, just as anyone else. I am keeping my faith, and I am hopeful....Thank you all!!!
"This was certainly a setback for me but I am taking responsibility for my actions and I'm prepared to face the consequences."
"Substance abuse is a disease, which unfortunately doesn't go away over night. I am working hard to overcome it and am taking forward every day. I am testing every single day and doing what I must do to prevent any mishaps in the future."