Heidi's Red Suit: Clown Or Couture?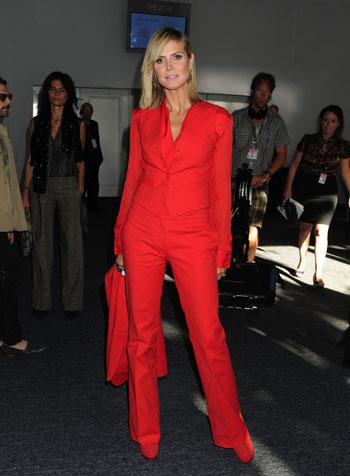 All eyes were on Heidi Klum at the Project Runway Season 8 Finale Runway Show during Mercedes-Benz Fashion Week on Thursday, as the supermodel turned host hit the runway in fire engine red suit. Was Heidi wearing a creation of one of her Project Runway alums? How did the fashion world respond to her attention grabbing style?
Heidi not was not wearing a couture creation of one of her Projects, but instead, a custom designed ensemble from Robert Rodriguez.
Article continues below advertisement
Paired with matching Yves Saint Laurent platforms, her high-waisted pants and fitted vest over a structured blouse ensemble (all in the same exact shade of tomato red) garnered a mixture of reviews from fashion critics, with the Daily Mail event even referring to the fumble as "Project Clownway!"
What do you think about Heidi's custom designed Robert Rodriguez suit? Leave your comments in Style.