SpyNet Night Vision Gives Your Kids Ability To See In The Dark!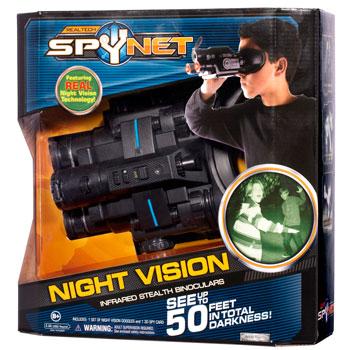 With the holidays just around the corner, RadarOnline.com's already scouting some of the hottest products of the season that will be sure to bring that wide-eyed smile to your child's face come Christmas morning.
Today, we bring you a truly innovative product from Jakks: the SpyNet Night Vision Infrared Stealth Binoculars, a device that uses infrared illumination to enable your kids to see in the dark, making it the perfect complement for sleepovers or camp-outs.
Article continues below advertisement
Chargepod Juices Everything At Once
Amazon users have been quite impressed with the product's abilities and value.
"This toy actually has REAL night vision technology!" Amazon user R. Makowski wrote. "And considering most low-end NV solutions start at around $500, the $80 price tag is fantastic ... its lot of fun, and very affordable when compared to other real NV solutions."
Amazon user Mark wrote the Eyeclops Night Vision 2.0 "performed much better than I expected.
"The box says it's made for ages 8 and up, but I think this is probably more suited to VERY mature kids or your older friends," he wrote. "I could see this being a learning aid for kids studying nocturnal animals. I could also see this being a fun toy on a camping trip. However you use this, it's a great gift idea and a pretty good value."
The Eyeclops Night Vision 2.0 comes with a headpiece, goggles, battery pack and adjustable straps.