Chargepod Juices Up Everything -- At Once!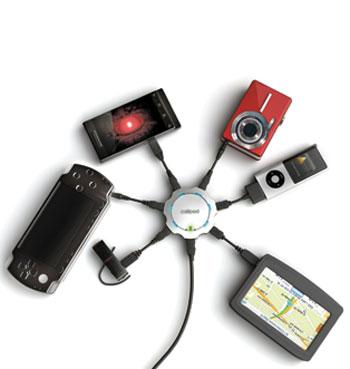 Your phone, your iPod, your camera, your headset -- all of these must-have devices need to be juiced with energy at all times -- so why not juice 'em up at the same time?
enables you to do just that, as its a six-way charging device that allows you to charge multiple cell phones, PDAs, headsets, and most other mobile electronics with a single power cord, making it the perfect solution for those low-battery dilemmas whether your at home, in the office or on the road.
Article continues below advertisement
The time has come to make the switch: Just select the manufacturer-specific adapters for your devices, and throw away the umpteen power cords that are cluttering your office and home, as you'll be able to stay powered up and organized from one central hub.
Go Backless With New iPhone 4 Cover
Reviews for the unit are predictably, thumbs up.
"This neat little system really cleaned things up," one Amazon.com user wrote. "Now we have one cable instead of a bunch, and the unit itself is quite attractive, with blue LED lights softly glowing... overall a clever solution to clean up clutter."