Exclusive
EXCLUSIVE: Shaquille O'Neal's Ex-Wife Offered Mistress 'Incentive' To Go Public With Affair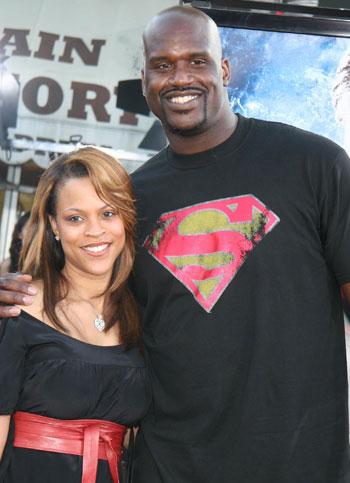 Shaquille O'Neal's ex-wife Shaunie tried to meet with his mistress to convince her to go public with the affair in an effort to derail the terms of her pre-nup, a well-placed source told RadarOnline.com exclusively.
What's more, Shawn Darling, the man suing the NBA star for computer hacking, is reportedly writing a tell-all book in which he plans to expose Shaunie's plans to walk away with more money in her divorce.
Article continues below advertisement
"Shaunie is freaking out," the source told RadarOnline.com. "She'll probably be deposed in his case and she does not want this information to come out."
According to the source, when Shaunie discovered that Shaq was having an affair with Vanessa Lopez, she devised a plan to expose Shaq as an adulterer.
Exclusive Video: Shaq Mistress Arrives In LA To Meet Lawyer
"She reached out to Vanessa last October through Shawn, who was working for the family at the time," the source revealed. "Shawn called Vanessa and told her Shaunie wanted to meet her in the food court at her local mall in Orlando. They made plans to meet at Johnny Rockets at 2 p.m. on a Tuesday."
The source said that Shaunie offered Lopez "an incentive" to meet with her.
"She wanted to convince Vanessa to go public about her affair with Shaq because that way Shaunie could accuse Shaq of adultery, which would nullify the pre-nup and give her more money in the divorce."
The plan ultimately backfired however. Lopez called Shaq and informed him of Shaunie's plan and was advised by his divorce attorney not to meet at the last minute.
Article continues below advertisement
According to the insider, Shaunie is now facing a new problem: the man she confided in is now writing a tell-all book.
"Shaunie signed a confidentiality agreement when she married Shaq," the source said. "But then she went and told Shawn Darling personal things-including asking him to contact Vanessa Lopez and convince her to meet.
"Now Shawn is threatening to expose Shaunie in the book and she's scared, not only because she'll be named, but because now Shaq could turn around and sue her for breach of contract."