Exclusive
EXCLUSIVE PHOTOS: The Situation's Hot New Ride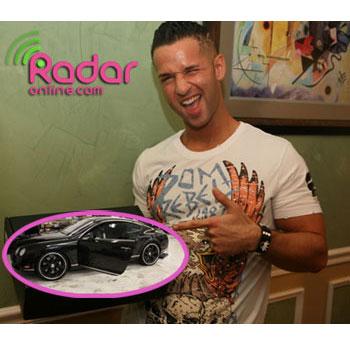 It looks like Jersey Shore's Mike 'The Situation' Sorrentino's rock hard abs won't be the only attribute attracting swarming female fans. Mike will soon be sporting a new set of wheels and RadarOnline.com has the exclusive photos of his hot new Bentley and the plans for making it even hotter.
On Thursday, Will Castro from the Spike TV show Unique Autosports met with Mike and his brother Marc Sorrentino, CEO of MPS Entertainment, to go over all the details of what the brothers wanted done to their new cars. "We are going to give them some amazing features including a complete JL Audio system for sounds, Strut grill, Pirelli Tires, & all the custom accessories" said Castro. "The Situation's decision to come to Unique Autosports was easy since he knew we've done whips for other celebs including Diddy, Lebron James and Pamela Anderson."
Article continues below advertisement
The Situation first met Castro in Miami while shooting the second season of The Jersey Shore and Castro set up one sweet deal for the reality star. All his luxury customization will be covered by Facio Productions for Season 2 of Unique Autosports: Miami.
"Mike hasn't seen the car yet but he is going to be psyched when we present it to him this month," said Castro. "These two brothers work long hard days and I am happy to make these hot cars are all trendy for the them." The Situation 'wants only the best' so he had Castro made his Bentley a Unique Special Edition. And Castro explained that this was just the beginning and that he definitely has the car bug.
"The Situation knew he wanted a Bentley but now that we've been pimping his ride, he's beginning to talk about getting another car. That's what happens, what you get a car like this, you start to get car fever and looking for more. We call it CGP which means he's now got Car Game Player just like GTL on the Jersey Shore."
RELATED STORIES: