Exclusive
EXCLUSIVE: NFL Star Vernon Davis 'Furious' Over Nude Photo Of Girlfriend Natalie Nunn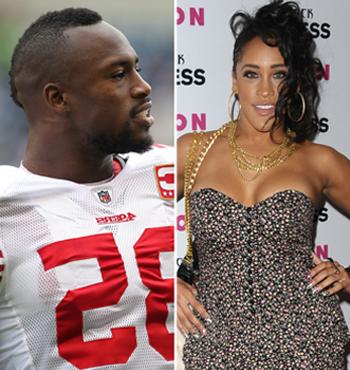 Reality star Natalie Nunn was lucky in love with NFL star Vernon Davis until a nude photo of her in a compromising position with NBA star Ty Lawson surfaced last week.
Now RadarOnline.com has obtained the exclusive details of how the picture emerged and Davis' reaction to seeing his woman with another man.
Nunn is one of the main attractions of the Oxygen network's Bad Girls series and her antics have helped the show get top ratings for the network.
Article continues below advertisement
But her real-life Bad Girl moves hurt her relationship with Davis.
EXCLUSIVE VIDEO INTERVIEW: Bad Girls' Natalie Nunn, The Baddest Girl Ever To Hit LA
"Vernon was really furious and was sulking about it because he thought she was two-timing him but the picture was taken a long time ago," said a friend of Nunn's.
"He was really embarrassed because both Ty and Vernon are from Washington, D.C., and they hang with the same crowd."
RadarOnline.com exclusively reported Natalie was dating Denver Nugget Ty Lawson in May of this year. We also broke the news of Natalie's new relationship with Davis, who recently became the highest paid tight end in the National Football League.
Natalie's friend told RadarOnline.com that Natalie took the explicit photo in December but an unconvinced Davis thought she had been cheating on him.
Compounding Natalie's problems: she's concerned about her father's reaction to the explicit shot, which was published on another Web site days ago.
Article continues below advertisement
"Her father is the pastor of their church and her nipple was showing for the whole world to see," a close friend said after the photo surfaced. "She took that picture with Ty in private and sent it to one of her closest friends and it ended up being blasted on the web!"
Nunn is a self proclaimed Bad Girl but never expected this racy photo to show up on the Web. She has been threatening a lawsuit via her Twitter and her friend says she's not taking it lightly.