Exclusive
EXCLUSIVE NEW DETAILS: 'Devastated' Paris Hilton Still In Japan - And Under Guard - After Being Detained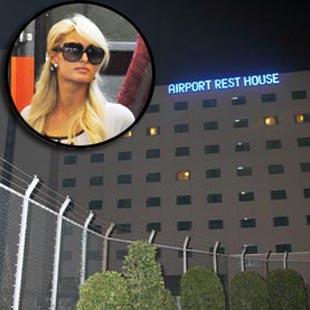 Paris Hilton -- described as "devastated" and "beyond upset" -- is currently at a Japanese hotel close to the airport, sources close to the hotel heiress exclusively tell RadarOnline.com.
"Paris is at a designated hotel that Japanese immigration officials recommended she go to. The hotel is close to the airport. It's unclear if Paris will cancel the business trip and come home."
Sources also tell us, "Paris is beyond upset as she was looking forward to this trip for months. Paris doesn't want to let down her business partners, nor her fans. Paris loves Japan, and Asia and is hoping this can be sorted out so she can proceed with the meetings, store opening, and meet her fans. Paris has the utmost respect for Japan and this mishap has truly devastated her."
Article continues below advertisement
Paris will stay overnight at the hotel under guard. Were told she is not under arrest, and that a guard is standard operating procedure in cases involving immigration issues.
RadarOnline.com has learned that a decision will be made in the next several hours if Paris will be able to continue on the trip as planned, or if she will be forced to come home to the U.S.
As RadarOnline.com was first to report, Hilton was detained by authorities upon her arrival in Japan late Tuesday (local time), one day after she appeared in Las Vegas on charges related to her drug-related arrest last month.
Hilton was all smiles when she arrived in Japan on a private jet along with her sister Nicki. Hilton had planned to unveil her fall/winter collection in Tokyo on Wednesday; her collection includes handbags, watches, and her fragrance, Tease.
During the trip, the socialite also planned to open a new Paris Hilton store in Indonesia.
However, upon her arrival in Japan, immigration officials in the country detained Paris for six hours, asking her questions about her recent run-ins with the law.
Hilton's recent woes began on August 26 when authorities in Las Vegas pulled over the Cadillac SUV Hilton and her boyfriend Cy Waits were riding in, claiming they smelled marijuana. After Waits was taken into custody on suspicion of misdemeanor driving under the influence of alcohol or drugs, police said they found cocaine in Hilton's purse.
Hilton on Monday received two six-month suspended jail terms in connection with the cocaine incident, as well as $2,000 in fines, 200 hours of community service and mandatory entry into a substance abuse program. Immigration officials at the airport told Jiji news agency that an individual with a suspended jail term needed "special reasons" to enter Japan.